Sliding Box Guide – Features, Advantages, Types, Application of Drawer Structure Boxes
94 views
Published by
August 17, 2021
You can discover a box shape several times in our shop: the sliding box (drawer box). Because of its extremely easy to assemble and use characteristics, the practical all-rounder Sliding Box has become the most commonly used structure for product packaging. In this article, let's dive into what is sliding box is and then move on.
What is Sliding Box?
To understand the principle of a sliding box, it is enough to imagine a certain box known to all: the matchbox. Just like them, our sliding boxes consist of a slipcase and an associated slot for pushing into each other, which is why the boxes can also be called slipcase boxes or drawer boxes. The slipcase is either open on both sides or closed on one side. Depending on the budget, the lower part is either rolled up or equipped with a hollow wall.
What Are Sliding Boxes Suitable For?
Due to the robust construction of the custom sliding box and the use of individual inserts, there are hardly any limits to this box in terms of filling material and intended use. Whether as an attractive jewelry box or cosmetic packaging, as an original mailing for customers and business partners, or for the packaging of electronic goods such as USB sticks, mobile phones, and CDs – sliding boxes always form a noble frame.
The sliding box is also suitable for shipping as well as packaging for advertising materials, brochures, documents, or writing pads. For this version, the box is usually produced with a stronger cardboard.
What Types of Sliding Boxes in the Market?
We manufacture sliding boxes either in carded form and with a hollow wall. The slider box has a folded double outer wall, while the hollow wall boxes have an integrated hollow edge. In the following, we will introduce you to the four different variants of this bestseller in more detail covering the advantages of each sliding box type:
Sliding Boxes With Inlay (Insert)
Sliding boxes are practical and are also suitable for sensitive products – when combined with an inlay. Thanks to custom inlays, even multi-part or fragile products arrive safely at their destination. We are happy to construct a custom insert that presents the content both attractively and protects against external influences.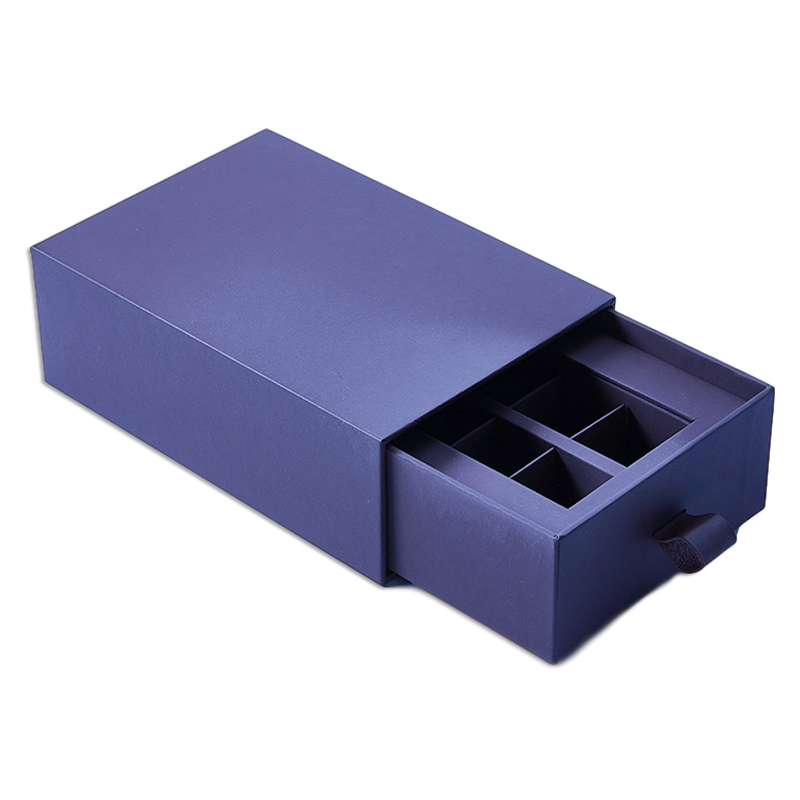 Advantages of the sliding box with insert:
Better protect products, especially fragile glass products
Better display items, custom inserts can bring a unique unboxing experience
Better fix the product
Sliding boxes with inlay suitable for:
Multi-part sets
Cosmetic sets
Writing set
Set with different delicacies
Bottle + glass in a set
Chocolates
Sliding boxes without inlay suitable for:
Card set
Invitation
Booklets
Voucher box
Welcome Pack
Open Sliding Box with Hollow Wall
The open sliding box with hollow wall consists of two parts: a lower part and a slipcase, the outer protective container, which is open on both sides. The lower part is a hollow wall lower part, which has a circumferential edge. This edge makes the box stable and of high quality. The slider is only glued to the long side and is open on both sides, which allows the lower part to be pushed into the slider from both sides.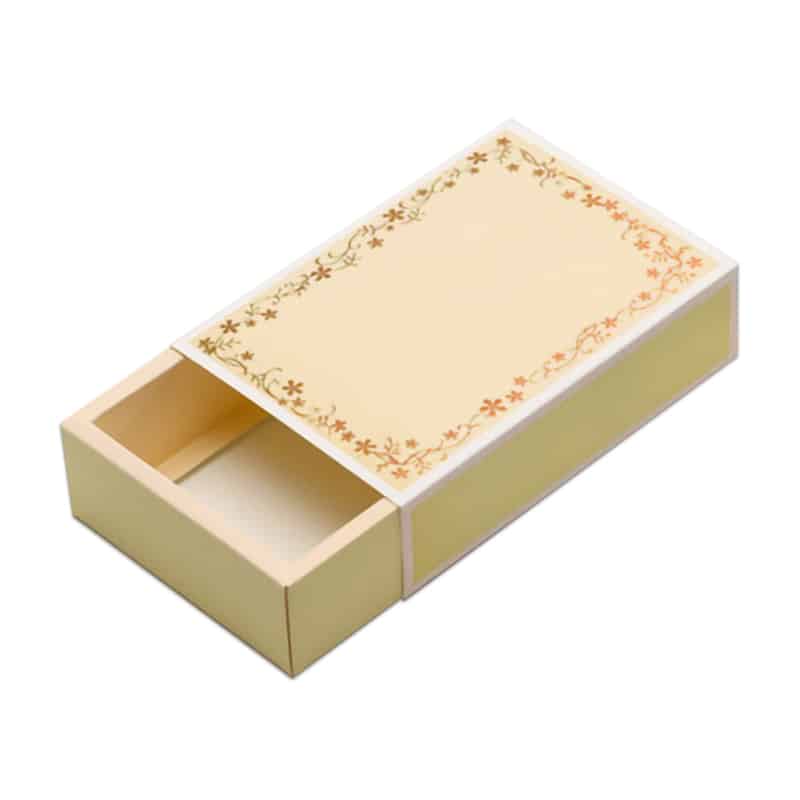 Advantages of the open sliding box with cavity wall:
We build the box completely for you
Box can be pushed to both sides
Noble hollow rim
Closed Sliding Box with Hollow Wall
The closed sliding box also has a hollow wall base, which has a circumferential edge. The slider is glued once to the long side. In addition, one of the two openings is closed by gluing two tabs together. The lower part can now be pushed into the slider from one side without slipping out again on the other side.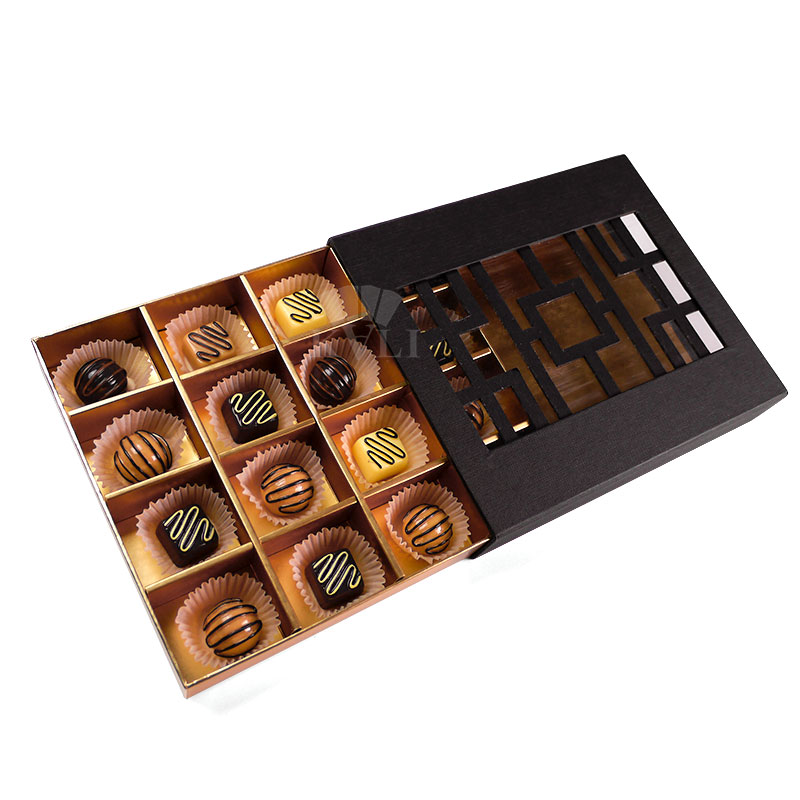 Advantages of the closed sliding box with hollow wall:
The box is sent erected – you can insert your product straight away
Easy opening thanks to semicircular holes
One side of the slide is closed for more stability
Sliding Box Rolled Up Closed
The carded sliding box consists of a carded lower part and a closed slide. The sides of the lower part are turned inside out, which is what gives the box its name. The box gets its stability by turning the sides. The long side of this slide is also glued; in addition, one of the openings is closed by gluing two flaps.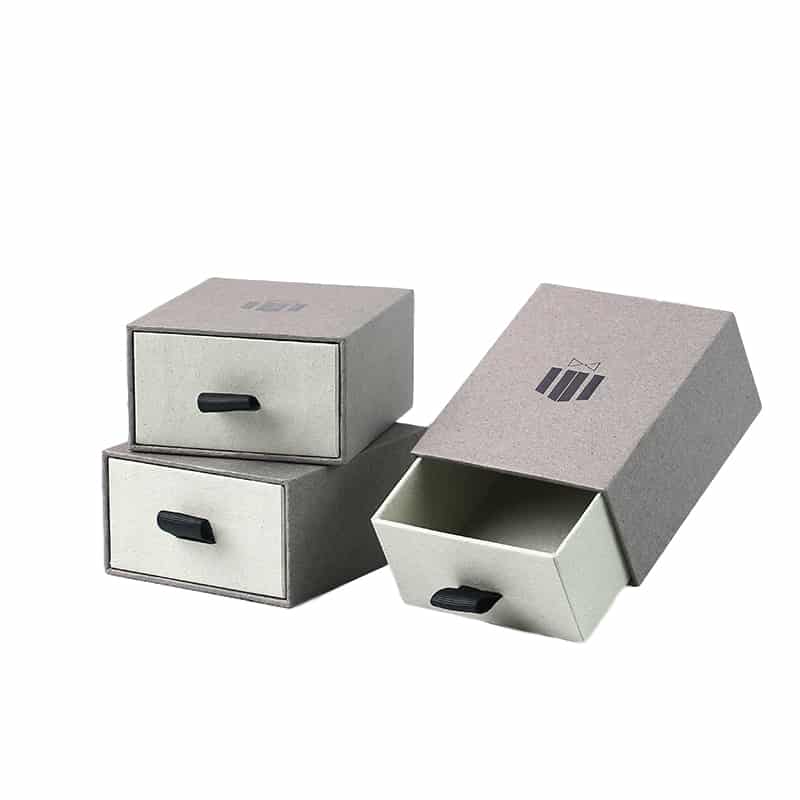 Advantages of the sliding box with closed card:
The only card box that is sent automatically assembled by us
Possible with individual inlay
An inexpensive version of the sliding box
Are you interested in sliding boxes? Take a look here for more information, or feel free to send us an individual request. At Luxury-Paper-Box.Com, we attach great order to individuality – custom sliding boxes or drawer boxes according to your products and special requirements. We are happy to respond to your wishes – our experienced packaging technicians will manufacture your custom product boxes. One of our customer advisors will be happy to advise you on the technical possibilities and support you in the design of your desired box. Get advice right away!
Our drawer box overview page also tells you everything you need to know about the different versions of the sliding box. Have a look!
Latest posts
                                  In July 2021, Henan China was stricken by severe flooding.                                                  ......

In May 2020 our company Zhuhai Kali Development donated 100.000 facemask to the Dutch healtcare organisation Stichting Cordaan. Completly in li......

This is our first time that Kali company has gone to Hungary. Because have enough time, so we decided to visite some local tourist attractions.......