Benefits of Double-Sided Printing for Packaging Boxes
229 views
Published by
December 29, 2021
We have massively expanded our options for two-sided printing. Until now, customers have already been able to have hinged lid boxes printed inside and out. Now we've added five new boxes to this category to give you even more choices! From now on, folders, folding boxes, cardboard waistbands, bag boxes and carrying handle boxes can also be printed on the inside.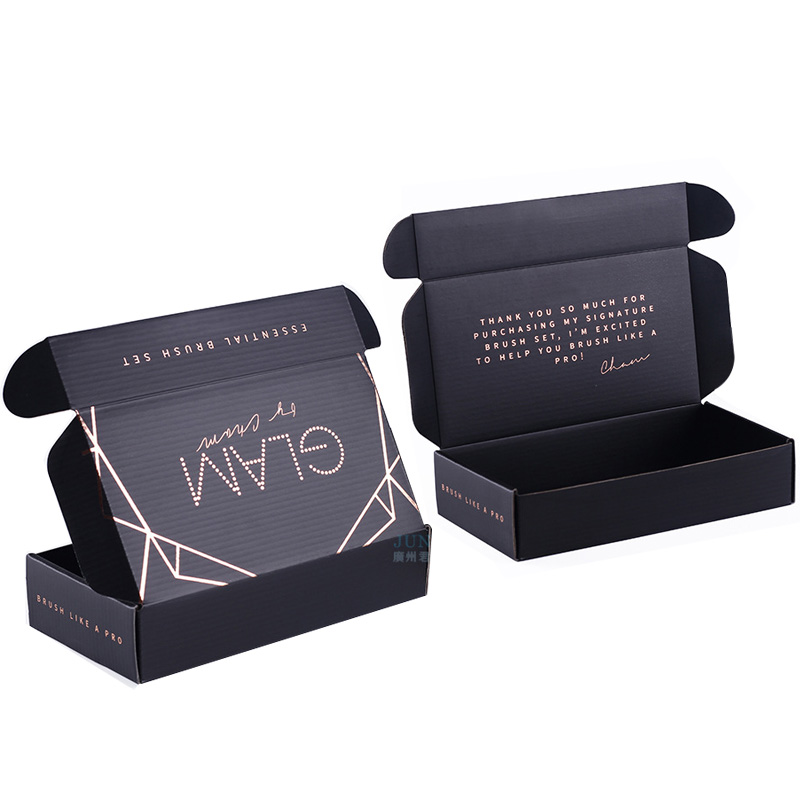 Double-Sided Printing
Attentive customers may now think – two-sided printing, that already existed? True, this was possible from the beginning with our folding boxes rolled up. In addition, with our folding boxes with hollow walls and magnetic boxes, you have the option of printing on the inside of the hinged lid despite the selection of "one-sided printing".
By popular request, we have now also integrated this option into other boxes. For the following boxes, you will now find the new option in the configurator under "Printing":
Cartons
Carrying handle boxes
Bag boxes
Folders
Bands
What Kind of Double-Sided Printing is Possible?
Basically, the possible printing of the inside is based on the printing of the outside:
4/4: four-color on the outside and inside
1/1: monochrome black, white or silver on the outside and inside
Four-colour printing is possible for boxes made of chromo cardboard white as well as brown cardboard and grass cardboard. Monochrome printing is possible for boxes made of brown or black natural cardboard.
Double-Side Printing Benefits – Why Have Packaging Boxes Printed on Both Sides?
Design space: Completely new possibilities are opened up by the gain in design space – see this as an opportunity to convince your customers inside the box with a contrasting design or continue to play your design classically. Leave only a small greeting to your customers or set a visual eye-catcher – the design is entirely up to you!
Branding effect: Your CI is not only carried to the customer by the outside of the box – when you take out the products, you and your brand are present again and thus remain longer in the memory.
Unboxing experience: Opening a box or packaging can be an experience. The interior printing is therefore suitable for all companies and brands that want to offer their customers the extra experience when opening.
Surprise effect: The customer takes the product out of the box – and underneath it is a funny saying, a direct greeting to the customer or a QR code that leads to a video of the product? This is surprising – and ensures long-lasting customer loyalty!
Do without additional brochures: Anything else you want to say to the customer, you can tell him in this way. The inside of the box is also suitable for instructions for use, recipes, ingredients or company stories.
Frequently Asked Questions About Packaging Boxes Printed on Both Sides
Does the Design Template Change if I Want to Print My Box on Both Sides?
Yes, in this case we have two design templates for your design – a design template outside and a design template inside. The design template was once mirrored by us and should not be changed by you. The exact instructions for creating your data can be found directly in the design template as well as in the folder with all suitable data sheets.
Is Double-sided Printing Plus Inlay Possible?
Yes, we print on the outside and inside of boxes and also create an individual inlay, which can also be printed. Full design possibilities for you! If you have any questions about the design or the design templates, please contact us – our account managers are looking forward to hearing from you!
Can Double-Sided Printing be Combined With Finishes?
With our highlight finishes such as partial UV varnishing or embossing (hot foil embossing or blind embossing), you have the choice between a small element and several or larger elements.
Note, however, that this should be the outside of the box. Especially in the case of embossing, the "back" of the embossing would otherwise be visible on the outside of the ceiling, for example, if you want to have the inside of the lid embossed.
Take advantage of the versatile possibilities that are available to you thanks to the two-sided printing and design your packaging in a unique way. Create extraordinary, multidimensional unboxing moments that keep you in the memory of your customers.
If you have any questions about double-sided printing or other options from our configurator, please do not hesitate to contact our customer service.
Latest posts
After years of experience accumulation, KALI (Luxury-Paper-Box.Com) become the manufacturer that can produce a wide variety of good-looking pac......

                                  In July 2021, Henan China was stricken by severe flooding.                                                  ......

In May 2020 our company Zhuhai Kali Development donated 100.000 facemask to the Dutch healtcare organisation Stichting Cordaan. Completly in li......