Best Christmas Food Packaging 2022 – 10 Most Creative Christmas Packaging Design Ideas
318 views
Published by
November 23, 2022
As one of the most important festivals in the culture, Christmas carries the summary of the past year, the blessing of the New Year, and the desire for a reunion of the local people. In addition to the old and the new, it is also a good time for people to make a big purchase. The packaging that meets the occasion can always attract the attention of consumers on the shelf, bringing good growth performance to the brand in the special holiday season. In this article, we share the top 10 best Christmas food packaging design ideas 2022.
Best Christmas Food Packaging 2022 – 10 Most Creative Christmas Packaging Design Ideas
At this crucial point of marketing, every brand is secretly trying to touch consumers with holiday information. Let's take a look at how fashionable and interesting holiday packaging plays with Christmas elements.
1.Kettle Chips
The appearance of potato chips is always accompanied by sharing with family and friends, and the festival atmosphere blessing highlights this feature. A ribbon and a blank gift label are added to the Christmas package of Kettle potato chips of each flavor, so that people can add some personal color when sharing potato chips with their closest people. Each flavor has its own paper design, customized according to individual ingredients and flavors while maintaining Kettle's bold and colorful shelf image. At the same time, our dear "Grandpa with white beard" and his smart Christmas cap were not forgotten, and they were cleverly displayed on the Kettle package.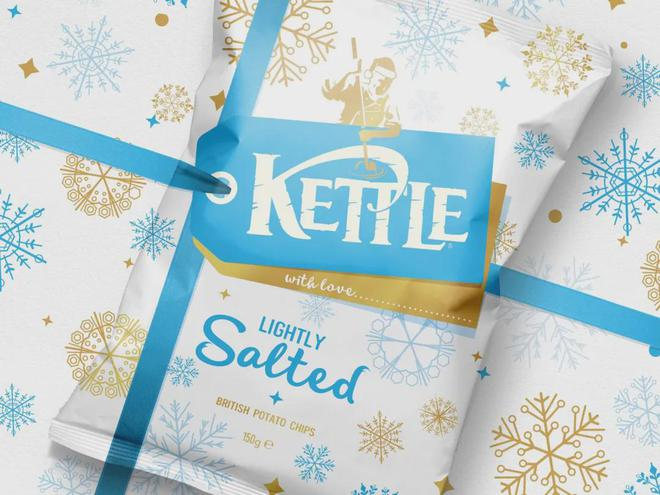 2. Christmas Tea Package of SENCHA TEA CO
Red, green, blue and yellow, the simplest Christmas colors, give the four flavors of tea a Christmas flavor. Visual language, especially the appropriate color, can always evoke the brand beauty of comfort, warmth and family style. Small candies, gingerbread people, stars, snowflakes, small colored lights, and the seemingly random lines and simple strokes on the tea cans create a strong festival atmosphere.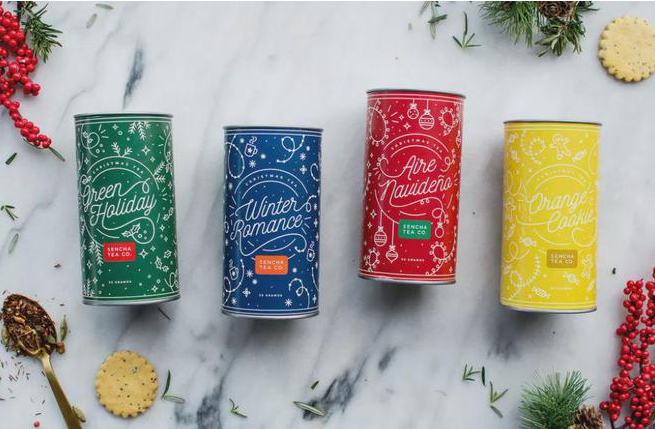 3. Dolci's Christmas Pastry Package
ROKO Studio designed a series of holiday packages for 2/3 Dolci's Christmas food. There is no special illustration in the design, but the inspiration is obtained from traditional Italian patterns, and delicate geometric patterns are interwoven on the packaging surface. In terms of color application, blue and red festival colors decorate the packaging box, and gold sparkles with festival brilliance from different geometric figures. From the square chocolate box to the decorative star box that can be hung, to the tin box in the shape of a Christmas tree, with the help of eye-catching optical illusion and elegant patterns, you can directly put it under the Christmas tree or hang it on the tree without any additional wrapping paper.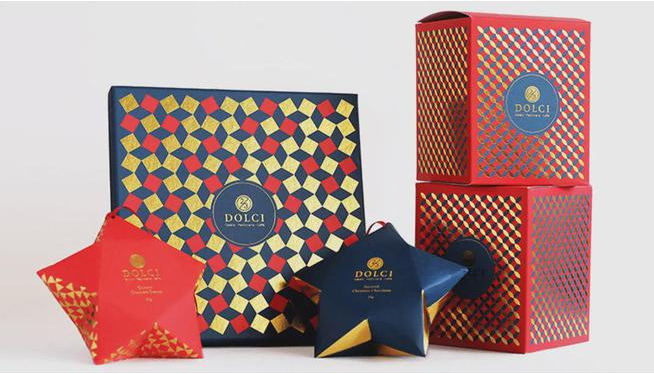 4. Burger King Christmas Special Drink Cup packaging
Like other brands, Burger King also displays the festive atmosphere by printing Christmas elements on the outer packaging of its products and adding classic holiday colors, including Christmas red and green, reindeer brown, and snowman white. The smart combination of coffee beans, reindeer horns and bells on the coffee cup is full of fun and perfectly conveys the wonderful festival atmosphere.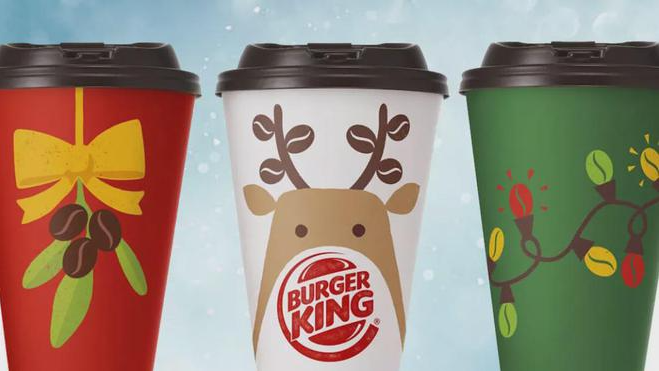 5. TOUS les JOURS Christmas Cake Package
The snowman, the Christmas tree, the lovely girl, and Grandpa Christmas, the heaviest guest of the festival, alternately shuttle under the geometric door of the main visual work, and use hide and seek character changes to arouse everyone's curiosity about the mysterious legends behind the festival. The main colors of this design are red and green. The Christmas castle is added with gold. All elements are related to Christmas. The magic castle stands on the cake wrapping paper, providing a happy atmosphere.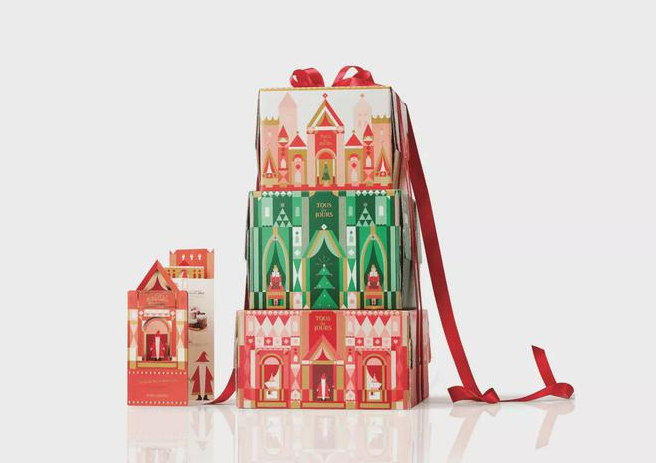 6. NUTELLA Christmas Version Chocolate Sauce Packaging
Nutella's Christmas marketing strategy is to convey the joy of the festival and the enthusiasm of the brand with visual elements. A popular brand message of Nutella is that every moment is more interesting because of Nutella, and the special moment of Christmas makes these moments more interesting. Breaking the inherent pattern on the iconic jars, the special version of the chocolate jam jars for Christmas are painted with snowmen, reindeer and Santa Claus. The unique style has a strong shelf impact and stands out among rows of canned products.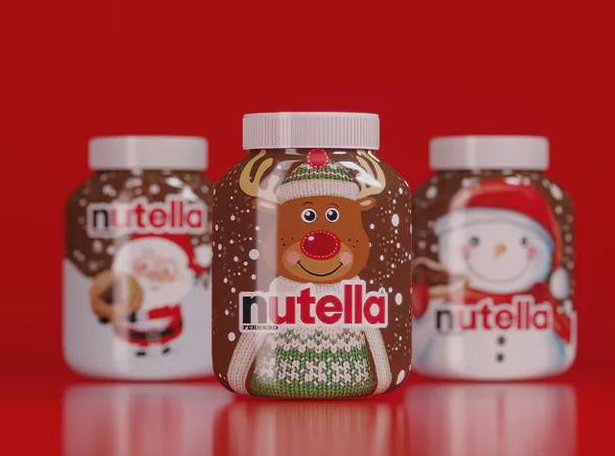 7. SUMOL Christmas Exclusive Soda Package
As a regular guest at Portuguese family tables, Sumol hopes that his own soda will bring more laughter and laughter to the Christmas table during the holiday season. BrandMe has made interesting changes to the traditional Christmas elements. An incomplete white beard and a red cotton-padded jacket are printed on the soda package. I wonder if there are any children or big friends who pick up their brushes after tea to complete their white-beard grandpa?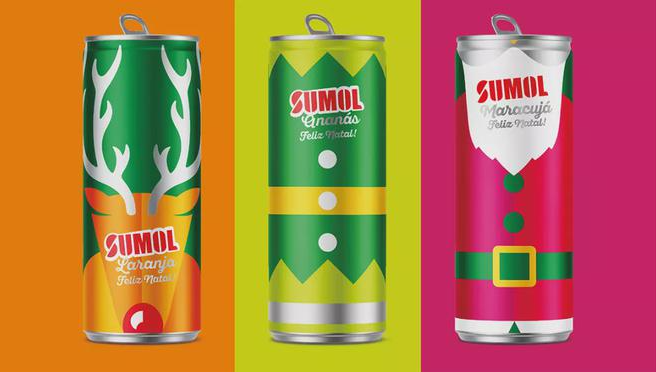 8. OVIO Cookies Packed in Christmas Iron Boxes
Tandem designed an unforgettable Christmas iron box for Ovio's Christmas cookies, which is beautiful, practical and full of childhood memories. These iron boxes may be found in every family, and some may be used as storage boxes for a long time. Simple graphic illustrations add a retro Christmas aesthetic to this box. This cookie box is as timeless as Christmas, occupies a corner in our memory and life, and retains the simplest warmth and happiness for us.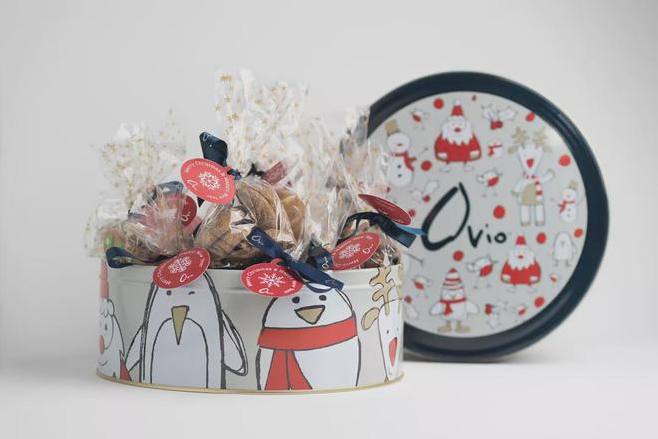 9. Donut Time UK Christmas Doughnut Packaging
In order to add fun, the design team not only used energetic illustrations and bright and bold colors on the package but also created animated matching GIF animations and stickers on Instastores – this is what Donut Time shared with their 10w+fans during Christmas, so that fans of this brand can publish their purchase photos on Instagram to share with friends. Offline purchases, online interaction, and festival support will attract more attention!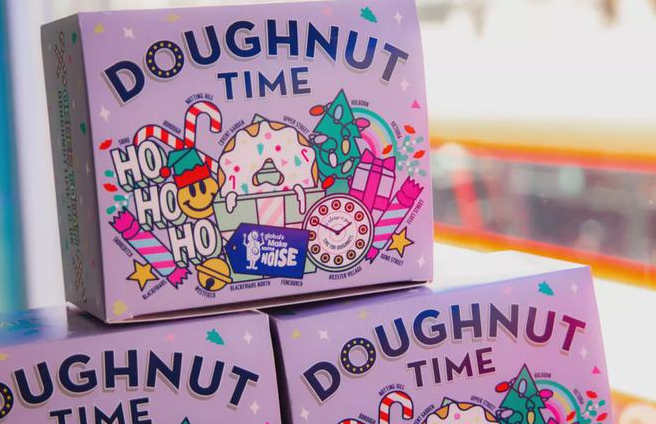 10. Christmas Tea Calendar Packaging
In the Western Cultural Zone, the whole of December is immersed in a strong festival atmosphere. The best way to celebrate is to open every morning of December with a cup of tea with fragrance. KALI has launched a Christmas calendar for tea drinkers. The Christmas calendar box can be put in 24 different flavors. From December 1, one box will be opened every day to count down to Christmas Eve on December 24. Getting together with people you care about and sharing happiness is the core of Christmas. The design of this Christmas gift calendar box makes every step of opening the package full of surprises.
Latest posts
After years of experience accumulation, KALI (Luxury-Paper-Box.Com) become the manufacturer that can produce a wide variety of good-looking pac......

                                  In July 2021, Henan China was stricken by severe flooding.                                                  ......

In May 2020 our company Zhuhai Kali Development donated 100.000 facemask to the Dutch healtcare organisation Stichting Cordaan. Completly in li......