Black Cardboard Pacakging Box Advantages, Types, Finishses, Applicatiaons | Black Packaging Box Design
88 views
Published by
July 8, 2022
Packaging made of black cardboard is extremely noble and can often be found in the premium segment. The black packaging box is also popular for high-quality short runs or manufactory products. With a simple finishing, such as a hot foil embossing or blind embossing, black packaging can be effectively staged. Even with a monochrome print in opaque white, you can achieve great effects. We will be happy to show you how your black packaging can become a noble eye-catcher in no time at all.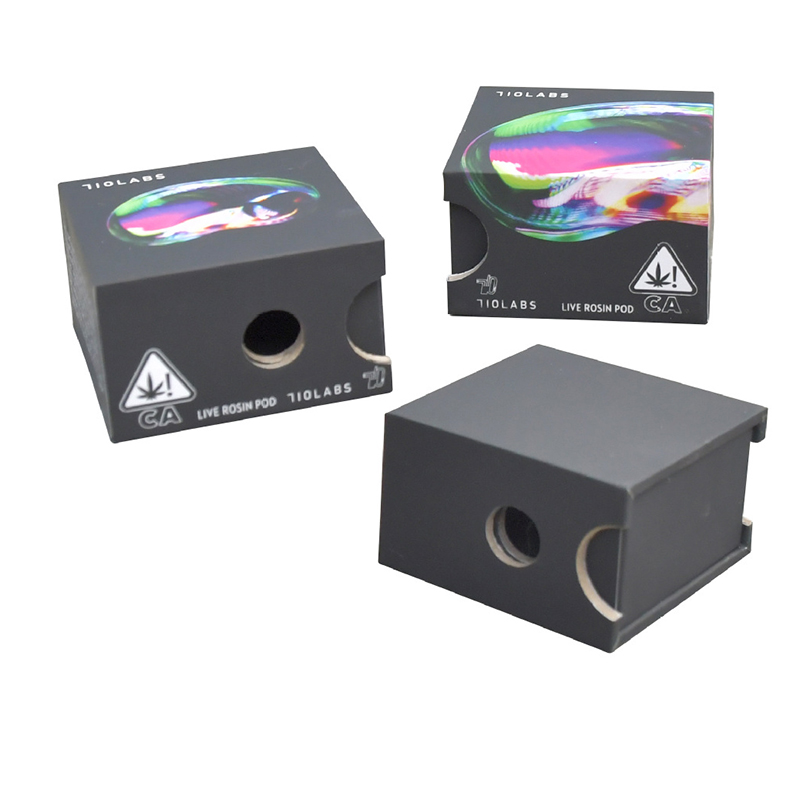 Black Packaging Boxes Advantages, Types, Applications
Black natural cardboard is stable and at the same time very noble – especially in combination with embossing. Not only the printing of a box conveys a certain message, but also the type of cardboard. We offer four different carton variants in our shop. Each variety tells a different story. In this blog post, we will discuss the "king of material types" – black natural cardboard and black packaging boxes.
What is Black Cardboard Paper?
The black cardboard that we offer at Luxury Paper Box is natural cardboard paper. This means that it does not have a coating finish, as is the case with our chromo board in white, for example. It is therefore an uncoated carton. It also has a high level of strength and convinces with its general effect, which is simple but at the same time very noble.
Features Of Black Cardboard Boxes
The black cardboard that we use for the production of our packaging is black natural or kraft cardboard. Kraft board is extremely stable and has high resistance, tear-resistance and bending stiffness. It is unbleached and completely black. The black natural cardboard is uncoated and has a natural, matte surface that feels pleasant and smooth when painted over. Due to its special surface structure, the cardboard remains clean and free of fingerprints. As a result, it retains its luxurious look.
This means that the black natural cardboard is similar to our brown natural cardboard. However, the two differ in a few advantages:
1) Elegance: Black natural cardboard is much more elegant in effect than brown natural cardboard. But the brown natural cardboard scores with its sustainable "eco" appearance
2) Printability: Brown natural cardboard can be printed with colorful prints; natural black cardboard can be printed in silver or white
3) Suitable for: Brown natural cardboard can be used for natural cosmetics folding cartons or other modern natural products. Black natural cardboard is suitable for noble product presentations, presentation packaging, gift sets, invitations, sparkling wine packaging or other high-quality products.
4) Finishes: Both the brown natural board and the black natural cardboard can be enhanced by our range of finishes. In combination with a print or without any printing – the finishes put the icing on the cake on your high-quality packaging!
Which Boxes Go Well With Black Cardboard?
All our box variants can be ordered in black natural cardboard. Brand new we also offer you the stands and displays in black natural cardboard, including white or silver printing – for an elegant appearance at the point of sale or at the next trade fair. In addition to the white or silver printing, there is a nice way to customize the black natural cardboard in our shop by embossing or finishing. In combination with the cardboard, these result in an elegant picture.
Best Surface Finishing (Printings) of Black Cardboard Packaging
When designing black packaging, the rule is: less is more. Due to a reduced design, the high-quality material comes into its own particularly beautifully. With discreet finishes or prints, the packaging becomes a noble eye-catcher in no time at all. A particularly beautiful effect can be achieved with a hot foil embossing in gold or silver, as this stands out particularly well from the black material color. But even with a partial UV varnish or blind embossing, the packaging receives a high-quality, luxurious touch. For more information about possible refinements, see Worth knowing.
What finishing options do you have when you order a printed box or a black cardboard stand? We will show you all the options that you can easily select in the configurator:
1) Black cardboard with golden hot foil embossing
Hot foil embossing in gold – royal result included. In the process, a golden film is applied to the cardboard using heat and pressure. The shiny, golden foil stands out clearly and nobly against the matte, dark background. The golden color brings royal elegance to black packaging that can otherwise be kept simple.
2) Black cardboard with silver hot foil embossing
Hot foil in silver – the modern variant, which is in no way inferior to gold. It is applied to the cardboard using the same process as the golden hot foil. The silver looks very noble on a black box, but at the same time modern and clean.
3) Partial UV varnish on the black box
To set a simple accent, we not only offer hot foil embossing in black – but a partial UV varnish is also a great way to highlight a logo or lettering on the black box. The UV coating can be felt as well as the other finishes and thus allows the packaging to be experienced in a new way. In the light, the paint also reflects in an elegant way and can therefore be rediscovered depending on the incidence of light.
4) Blind embossing sets simple accents
Another refinement variant is blind embossing. For this purpose, an embossing stamp is used, on which the motif of your choice is depicted, as well as the matching negative counterpart. With the help of printing, the motif can now be embossed into the paper surface. The motif now looks sublime and can be felt haptically – so the customer experiences the product in a completely new, exciting way.
Most Popular Types Of Black Cardboard Boxes
Types of boxes that are particularly suitable for black premium packaging are e.g. folding boxes, folding boxes, slip-on boxes, magnetic boxes, or sliding boxes. A cheap alternative to the boxes is bands made of black cardboard.
Slip-on Boxes
Slip-on boxes made of black natural cardboard look particularly elegant. They are extremely stable and therefore ideal for high-value or fragile products.
Black folding boxes appear extremely high quality and exclusive. They are suitable for almost every product and present it elegantly.
Magnet Box
Magnetic boxes made of black kraft cardboard are absolute premium packaging and ensure a perfect and high-quality product presentation.
Customized Inlay For Black Packaging Boxes
Custom-fit inlays ensure a wow effect when opening the black packaging and are therefore indispensable in the premium segment. The precisely fitting inserts not only provide protection, but also a perfect product presentation. As a rule, the inlays are also made of black natural cardboard, so they can be perfectly adapted to the packaging design. Depending on the design, the inlay can be printed or left unprinted.
Black Cardboard Packaging Applications (FAQ)
If you opt for a black packaging, in addition to the black natural cardboard, you also have the option of taking a white chromo board GC1 and having it printed black. Chromo cardboard can be printed on both sides. The paper line on the front allows a print image with a brilliant color effect. On the natural side, on the other hand, the print looks a bit dull and natural.
What Products Is Black Cardboard Suitable For?
Basically, black cardboard is suitable for any product. However, it is particularly popular with packaging for fine textiles, accessories, cosmetic products, jewelry, gifts or manufactory products. With black cardboard, you can also have an elegant version of an advent calendar made – for example, perfectly combined with a golden hot foil embossing. Black product packaging stands out at the point of sale and underlines the value of the product.
What Advantages Does Black Cardboard Packaging Offer?
Packaging made of black natural cardboard looks luxurious, high-quality and noble. The packaging stands out and gives the product a luxurious touch. The natural, matt surface is ideal for finishing or printing. In addition, the cardboard is tear-resistant, stable and recyclable.
Black Packaging Recycling
For the production of our black boxes, we use black natural cardboard or kraft cardboard. This scores with many positive properties: It is robust, stable, compact, easy to print and can be recycled very well.
Latest posts
After years of experience accumulation, KALI (Luxury-Paper-Box.Com) become the manufacturer that can produce a wide variety of good-looking pac......

                                  In July 2021, Henan China was stricken by severe flooding.                                                  ......

In May 2020 our company Zhuhai Kali Development donated 100.000 facemask to the Dutch healtcare organisation Stichting Cordaan. Completly in li......