Custom Food Packaging Box Design & Selection Guide
764 views
Published by
December 24, 2020
Food packaging boxes (candy boxes, chocolate boxes) are designed to stand out by luring potential users' taste buds like products. No doubt! Every company wants to create the perfect product for consumers, and always strives to make their food packaging appeal to customers, thereby increasing candy/pastry/chocolate/cookie sales. The unique candy packaging box is very beneficial in increasing sales. In addition to the rich taste of various foods, consumers are more or less attracted by the appearance and color of its packaging. According to customer preferences, merchants should consider the following points when customizing confectionery packaging boxes.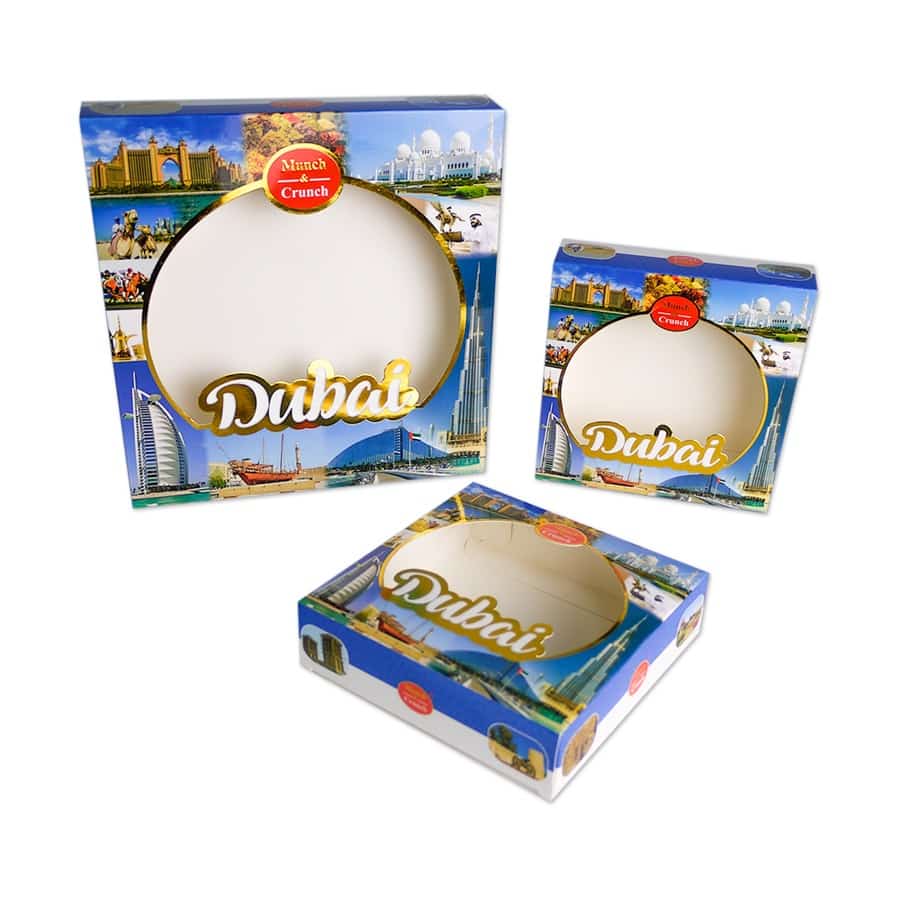 Main Factors to Consider When Choosing Custom Food Packaging Boxes For Candy, Chocolate, Cookies
From a designer's point of view, this is a thorny issue, not only to have a beautiful appearance but also to consider more practical factors, such as maintaining the freshness of the product. At the same time, try to protect the safety of easily damaged food, which depends on the design and material of the gift box and packging box. To stand out in the highly competitive food industry, you must ensure that the product is in a leading position. For this, you need to pay attention to every little detail of your box. For example, colors, sizes, styles, designs, materials, and printing can all reflect your brand well.
Unique Customization
Add popular character elements
Some popular figures, especially cartoon and animation characters, are very popular among consumers. Printing them on the boxes of candies and macarons may attract more consumers, especially certain groups of people such as Children who love desserts. For example, children and movie fans will be fascinated by the candy packaging box with famous cartoons or fictional characters such as Superman and Batman printed. Although sweets are popular with people of all ages, their main consumers are children.
Theme Customization
Festivals are always unforgettable, dessert manufacturers can customize personalized gift boxes for the holidays. In order to achieve this goal, businesses can print holiday blessings and greetings on the packaging boxes, and match the theme patterns related to certain festivals and activities, thereby increasing the festive atmosphere. Such as Christmas tree, Valentine's Day red heart, Halloween pumpkin, can attract more consumers during the holiday season. You can even customize unique shapes according to different themes, such as designing a heart-shaped structure for the most popular gift for Valentine's Day and a pine tree-shaped packaging for Christmas.
Brand Marketing
Product marketing and promotion are important factors to help you establish a good brand image. Customized food packaging boxes can help merchants complete this task. Ingeniously and beautifully printed the name and logo of the brand on your dessert packaging box can make consumers have a deeper impression of your brand. In addition, some other information about the company can also be added to the box, such as the company's slogan, address, and contact number.
Features that improve the customer experience
You can add embossing technology to the packaging box to increase the visual appeal of the packaging box, and adding special functionality to the packaging box can bring customers a unique experience, such as a visual window that allows your candy to directly attract customers and make them Buy with confidence. Designing some unique but uncomplicated opening methods can often surprise people.
Food-friendly Materials
When choosing the material of food packaging boxes, in addition to considering that it can maximize product safety, it also needs to ensure that it is not harmful to human safety. This is why paper packaging box has become the first choice for many candies, desserts, chocolates, and other food packaging due to its natural material advantages. For those foods with a relatively short preservation time, it is more necessary to use special materials and increase the function of extending preservation.
Environmentally Friendly Materials
Taking into account the increasing environmental pollution, businesses began to look for some environmentally friendly resources to run their businesses. The use of paper packaging boxes is very effective in protecting the environment. Because paper is biodegradable, which means that they can be decomposed. Secondly, it produces much less harmful substances than plastic and metal. Finally, paper packaging can be recycled.
Food Hygiene and Safety
The primary purpose of food packaging boxes is to keep the food free from any contamination. When transporting food, if the transportation personnel do not take the hygiene issue seriously, the pollutants that have always existed in the air will come into contact with the food. It will lead to the growth of food bacteria. If food hygiene measures are not taken, it will lead to food poisoning. This will reduce the popularity and sales of this food. Therefore, we must ensure that any food company does not take this risk lightly.
Product Information
Food packaging boxes are also a good source of information for consumers. On the food packaging boxes, you can see the production/expiration time of the food, as well as the used ingredients and nutritional value. Because many consumers read this information carefully before buying food, when this information is useful to consumers, it will build consumer trust in your food brand.
Transport Safety
Sometimes it may take several hours or even days before the food reaches the destination, and many vehicles may need to be replaced during this time. If the food packaging is not safe, the food may be damaged. You don't want your food to reach the store shelves in this state. There is also a situation where no one can really know that the food can stay on the shelves. How long, so the food packaging box can ensure that it stays fresh.
Therefore, when customizing packaging boxes for your food products, you must add the above elements to your plan, which will help you get more customers and sales.
Where To Buy Wholesale Food Packaging Boxes?
If you are looking for a food packaging box or gift box that can meet all the above conditions, please contact us. Kali has many years of rich design and production experience to ensure that your products can add value to our packaging boxes. Wholesale custom candy packaging boxes and chocolate boxes from us, you will get the following benefits:
Ingenious Design – Custom design variety of food boxes (cookies boxes, chocolate boxes, truffles boxes, origami box, candy box, macaron box, cookie box) for food packaging & festival gifts.
Excellent Quality – Produced with selected materials and superb craftsmanship, can always pack your candy well for packaging, delivering, or traveling.
Best Prices – Provide competitive food packing boxes wholesale price, offer the best custom production plan to help clients save money and time.
Various Types – Wide range of sizes, shapes, colors, functions, and styles are available for option and customization.
Environmental Protection – Our excellent food gift boxes and packaging are also recyclable, eco-friendly for the environment, and healthy for the users.
Reliable OEM/ODM Service – Free sample before mass productions, responsive online customer support, timely delivery, and responsible after-sales
Latest posts
After years of experience accumulation, KALI (Luxury-Paper-Box.Com) become the manufacturer that can produce a wide variety of good-looking pac......

                                  In July 2021, Henan China was stricken by severe flooding.                                                  ......

In May 2020 our company Zhuhai Kali Development donated 100.000 facemask to the Dutch healtcare organisation Stichting Cordaan. Completly in li......