Custom Printed Mailer Box (E-commerce Shipping Box) Advantages & Best Designs For Sales Boosting
85 views
Published by
October 29, 2021
Print mailer boxes are currently experiencing a real comeback. While companies have relied purely on a digital customer approach for years, there is slowly a mix of marketing channels again. Because well-thought-out, high-quality, and beautifully designed print mailer boxes stand out and can inspire. Today, however, the focus is more on quality than quantity.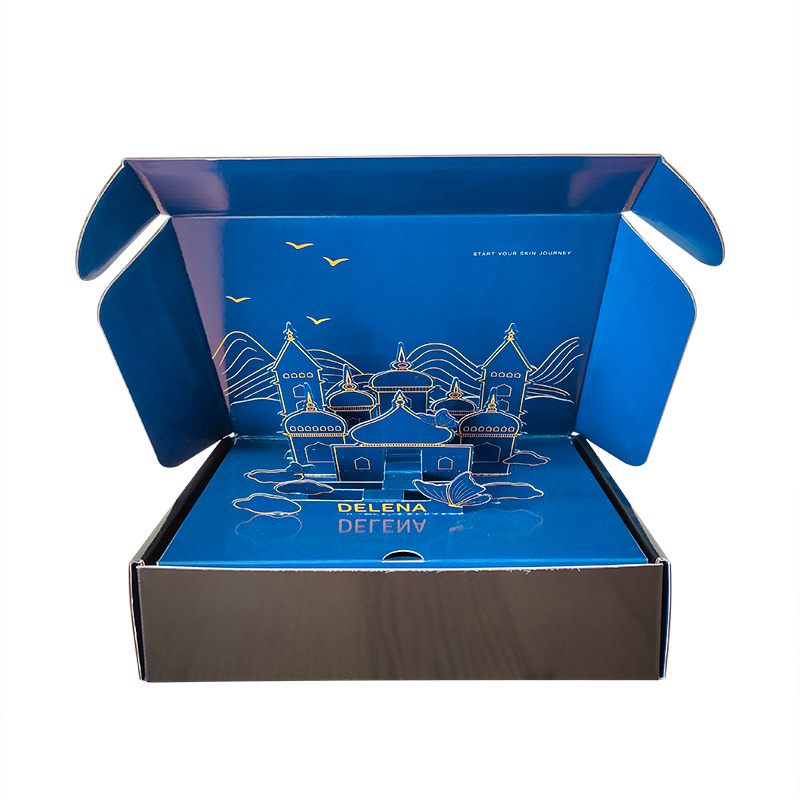 So if you have ordered a folding retail box or other printed product packaging from us and would like to ship it, we recommend that you order a custom shipping box in addition. Due to the higher stability and robustness of the shipping boxes compared to the solid cardboard of our folding retail boxes, they are perfectly suited as a supplement for safe shipping, transport, and storage. When it comes to the custom packaging for your products, it also ensures a lasting impression on the customers if the printed shipping box in a similar look matches your designed packaging.
Here you can find out what is meant by a printed shipping box, how you can implement it, and what advantages custom printing mailer boxes have for you. In addition, you will get an insight into the best custom printed mailer box ideas for boosting products sales.
What is a Printed Mailer Box?
A print mailing is an enveloped mailing or the postal dispatch of advertising materials. Classically, this would be a piece of paper with your advertising message in an envelope. But this has long been outdated. The content of a print mailing can vary greatly. It can include one or more sheets, a flyer, a card, a box, or even a combination of different components. The decision is entirely up to you and depends on your advertising message.
Our printed quality mailings form the right framework to convey your advertising message effectively and creatively. Whether extraordinary folding techniques, special formats, or custom-made boxes – the options for individualization are unlimited. Print mailings offer numerous possibilities to present your products, services, or company information creatively and attractively.
Benefits of Using Printed Mailer Boxes: Why Have Shipping Boxes Printed?
There are many reasons for this! In addition to making an excellent impression on your customers, you also increase your branding by making your brand visible on a shipping box. Due to the fact that many online shops, brands, etc. rely on commercially available unprinted shipping boxes, you stand out from your competitors with a printed shipping box.
What distinguishes print mailer boxes from digital forms of advertising? Print shipping boxes can be picked up and experienced. A noble paper gives the mailing a different value and ideally leaves a lasting impression. Whether invitations, promotional flyers, or unusual 3D mailer boxes: Print offers you comprehensive possibilities for customer communication of a special kind.
Print mailer boxes score with other advantages. Most customers rarely receive mail anymore. This offers you the opportunity to surprise and stand out with an attractive print mailing. This allows you to draw the full attention of customers to your brand and product.  For your customers, it may be an exciting and welcome change from the rest of the boring mailbox contents.
In addition, printed shipping boxes offer the advantage that they improve the so-called unboxing effect. When it comes to unboxing, it simply depends on the first impression. This means that the more beautiful and creative your shipping box is designed, the better it will be used by your various target groups. Especially in the field of social media, unboxing videos are playing an increasingly important role. This can be decisive for the turnover of the products to be sold. That's why you have the chance with us to tailor your product even more individually to you. Because anyone can send unprinted shipping boxes!
Custom Printed Mailer Box Design Ideas – What Should Be Printed on Shipping Mailer Box?
In principle, you should design your shipping box as individually as possible so that you stand out even more from your competition. You can decide for yourself whether you want to design your shipping box in the style of your custom product packaging or generally design a shipping box that is universally applicable to all your products. That's entirely up to you.
Our recommendation is to adapt the shipping box specifically to your custom folding boxes. This ensures a uniform look and makes your product look even higher quality.
Basically, a large logo, which can be seen from afar, is recommended for printed shipping boxes.
Creative print mailer boxes are remembered and make an impression. Instead of opening an email with a mouse click, opening a mailing is an experience that can appeal to multiple senses. It can be experienced visually, haptically, and olfactorily. A multi-sensory experience ensures that your advertising message remains in the memory of your customer longer. So it leaves a lasting impression and the customer will remember your brand and your products better. There are numerous options here: you can play with the material, for example, sturdy, black cardboard conveys something different than colorfully printed paper. A special shaped mailer box may be more eye-catching than a postcard mailing, but the latter is more classic. Here you should ask yourself which customers you want to impress the most.
We will be happy to advise you on cardboard type or material and show you various design options and finishing variants.
Best Printed Mailer Box Variants: How To Design Custom Shipping Box For Product Marketing?
We are the right partner for custom print mailings that stand out and inspire. We implement the mailings exactly according to your individual wishes and are happy to advise you on possible material, design, and finishing variants.
Special Shaped Mailer Boxes
Do you want to give your customers something exciting, but don't want to fill the entire mailbox? Then a special-shaped shipping box would be a good variant. These unique mailer boxes are shipping boxes with a customized outline and contour. They are suitable for extraordinary designs with customizable cover letters and texts. For example, you can design a new product in its original size and shape as a mailer box. Thanks to the appropriate finishing, it can also be experienced haptically.
Hinged Lid Mailer Boxes
With a hinged lid shipping box, you offer your customers a very special mailing and unboxing experience. Here you also have the possibility to fill the shipping box due to the larger packaging. There are no limits to your creativity. These can be company gifts, selected samples, or small treats. Custom-fit inlays ensure a wow experience when opening.
Slipcase Mailer Boxes
The slipcase-shaped shipping box is a variant that is both classic and eye-catching. To open it, the content must be actively pulled out. This increases the likelihood that the customer will read your advertisement. This type of mailing can be used both as an invitation with a small gift, as offer information, or as a means of acquiring new customers. It is also ideal for the presentation and dispatch of product samples.
Order custom printed mailer boxes on Luxury-Paper-Box.Com! With our new printed shipping boxes, you generate an even better impression when your product is delivered to the customer.
Latest posts
                                  In July 2021, Henan China was stricken by severe flooding.                                                  ......

In May 2020 our company Zhuhai Kali Development donated 100.000 facemask to the Dutch healtcare organisation Stichting Cordaan. Completly in li......

This is our first time that Kali company has gone to Hungary. Because have enough time, so we decided to visite some local tourist attractions.......