Why Kraft Bags Is The Best Food Packaging | Kraft Paper Packaging Advantages
63 views
Published by
December 31, 2020
Convenience, food contact and profitability are the main criteria for choosing food packaging. Among the many options available to take-out and fast-food professionals is kraft paper packaging. Popular for packaging food and drink, it is both an environmentally friendly and practical option. Update on kraft paper.
High-quality and Highly Secure Food Packaging: Kraft Paper Bags
One of the first kraft packaging to achieve success in snacking was the kraft bag. Used initially as an alternative to the plastic bag, it then turned out to be a real partner for fast food professionals and not just! Indeed, thanks to its composition, the kraft bag is extremely strong and resistant, which earned it its name "kraft" which means "strength".
Thus, the kraft paper bag has attracted many traders. From the butcher to the shoemaker, everyone has fallen under the spell of the kraft bag and its extreme versatility. Perfect for transporting beverages, groceries and other items of all kinds, it is also ideal for home delivery of meals and other food items. Indeed, thanks to its robustness it supports heavy and bulky products.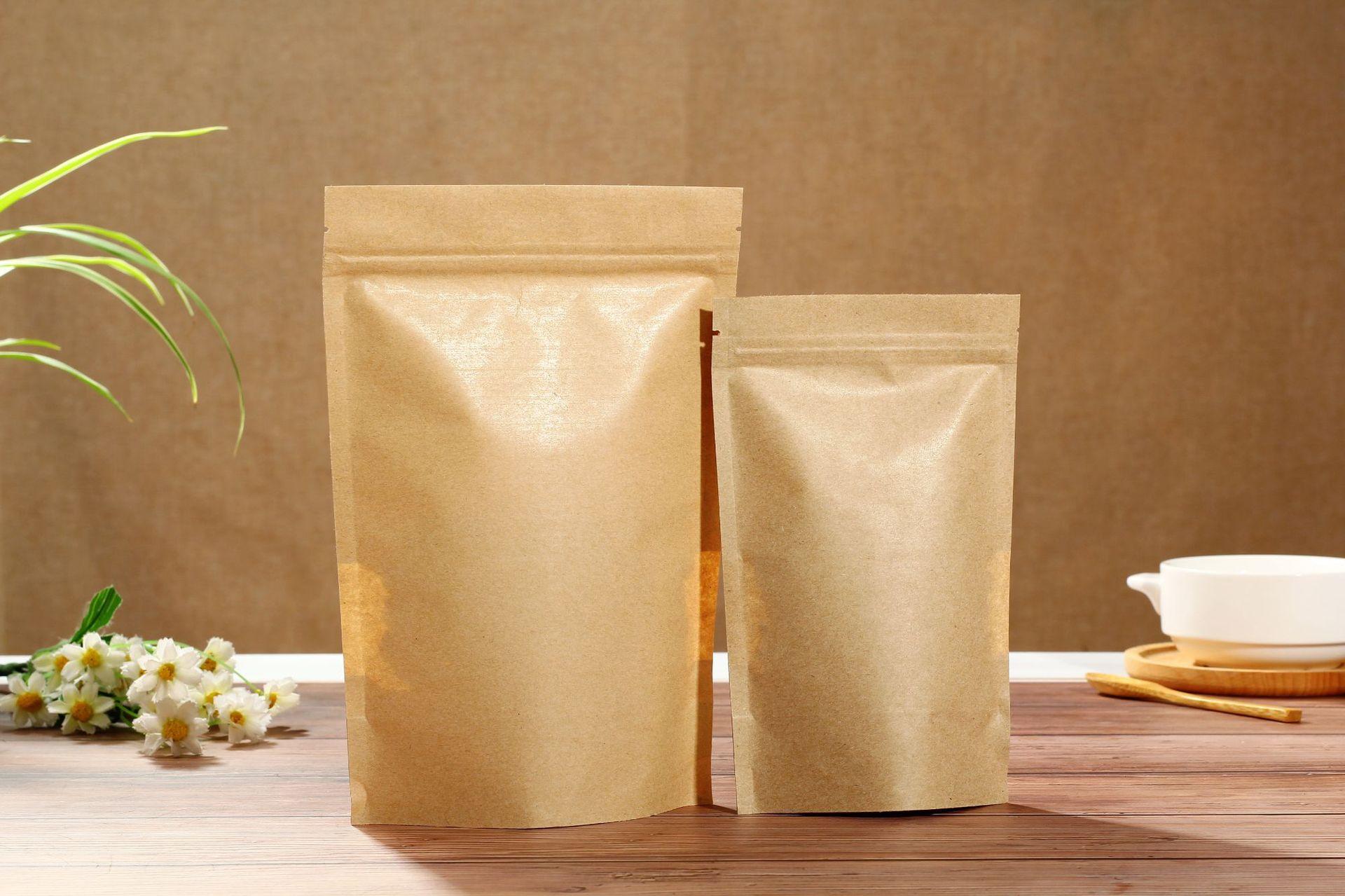 What is Kraft Packaging Made Of?
The kraft paper, brown and neutral in color, is an environmentally friendly multi-use and very resistant paper. It is made from pulp of fir, pine or softwood lumber. Divided into several sheets, the dough is rolled out and then dried. Then comes the winding. The last step in the manufacturing process is to form large coils. The kraft paper will then be destined for many uses, including disposable food packaging.
Main Advantages of Kraft Food Packaging
Kraft paper bags are used in many food service industries, including bakery. They have many advantages for caterers and restaurateurs:
Great Resistance
The word "kraft" means strength. It is used to describe this type of cardboard because it is very strong. This is because tote bags and kraft sachets are not only used for food packaging, but they also allow the design of bag liners in other areas (eg cement bags). Some large catering bags can even carry up to 5 kilos of food without risking tearing. However, it should be noted that tools with sharp ends such as knives can damage the kraft bags.
Low Impact on Environment
The kraft bag is an ecological food packaging because it is biodegradable. A small amount of resources are involved in its manufacture. In addition, it is recyclable. At the end of its use, it can therefore be used in the manufacture of new paper rolls. Kraft paper is also made from a natural, non-toxic material. It therefore poses no threat to nature once used. The kraft packaging manufacturing process is both environmentally friendly and eco-responsible.
Possibility of Customization
Personalization is possible on the kraft paper packaging. Indeed, large bags offer different alternatives. To customize a bag freely, opt for models in automatic production and not in transplanting. For professionals, a kraft paper bag is a powerful advertising medium. It gives them the opportunity to put their logo and brand forward, while facilitating the transport of food and drinks.
Different Models Optional
There is a wide range of kraft paper packaging. You can adapt them to your needs:
– The flat kraft bag: very thin and sometimes transparent, it is used to highlight its contents. This model of bag is available in several formats.
– The dog-eared kraft bag: it has a large capacity and a solid base. When installed on a flat surface, it will stand in place by itself.
– The kraft bag with handles: the handles in question can be twisted, cut, flat or in a string. It can be used to transport a large quantity of products.
Cost Effective
In addition, if this multifunction bag is an asset for your business, it is also one for your wallet! Economical, the kraft bag is distributed on a large scale and at a lower cost!
The Disadvantages of Kraft Packaging
Despite its many strengths, kraft food packaging also has one notable disadvantage, which is its poor resistance to water. To be reusable, a kraft paper bag or sachet must therefore be stored in a dry place. Indeed, if it is placed near a source of moisture, it may adversely affect the quality of the products it contains, although it is perfectly suitable for contact with food. Whether used to carry fruits and vegetables, sandwiches or even candy, place it in a corner of the kitchen that is always dry.
Where To Use Kraft Paper Packaging?
In the presence of so many advantages, kraft paper has diversified and has become the flagship component of a large number of food packaging. Now you can enjoy your salad in a kraft basket, continue your meal with a burger packaged in a kraft shell, enjoy beautifully packaged pastries in a kraft box and sip your coffee from a small kraft mug. Finally you will understand, kraft is everywhere!
Economical, practical and ecological, kraft paper is the perfect packaging! From small containers to XXL format, from cold starter to hot dish, from natural design to elegant look … kraft perfectly meets all the expectations of professionals in the catering trade!
Specially designed for bakers, the Bakery / Pastry range includes a large number of kraft food packaging! Indeed, the variety of uses offered by kraft packaging fully meets the needs of professionals. From preparation to sale, including storage, this ecological paper conditions baguettes, sandwiches, pastries, wraps, salads, pastries, drinks and take-out menus.
This versatility makes kraft paper also ideal for all other snacking professionals: snacks, kebabs, salad bar, pasta bar …
Outside of catering, kraft bags are used to transport: Books, Clothes, Perfumes, Shoes, etc.
These are interactive communication tools for professionals. This is why they are very popular in various industries.
Where Can I Get Custom Paper Bags?
For all your food packaging needs, we offer a wide range of products in different sizes and colors. Premium quality and at discount prices, our kraft bags and sachets can meet your different needs. Order them in large quantities to take advantage of reduced prices. Whether for professional or personal use, our bags are ideal for transporting food products safely.
In addition, we offer you the option of customization to put your brand forward. Select the model and type of handle that meet your expectations and benefit from packaging that suits you. In addition, being designed according to a standardized manufacturing process, our products are certified ecological. They guarantee the least environmental impact.
Latest posts
In May 2020 our company Zhuhai Kali Development donated 100.000 facemask to the Dutch healtcare organisation Stichting Cordaan. Completly in li......

         More information about 2018 Luxury Packaging London Exhibition, please click here                                                    ......

  This is Kali's first show at London Luxury Packaging 2018 for our high-end paper boxes.    Kali Products showed at the fair were empt......