Where To Buy Empty Makeup Palette | Best Custom Makeup Packaging Box Supplier
235 views
Published by
February 8, 2021
In the highly competitive cosmetics industry, correct and attractive packaging is essential. But how to choose the most cost-effective custom makeup palette and cosmetic packaging boxes that are loyal to your brand? Although most packaging box manufacturers have the ability to provide you with a wide range of options, there are still many other issues to consider.
In addition to attractive customization ideas and customer service, cosmetic packaging box suppliers also need to provide a variety of services, such as materials, process selection, competitive prices, timely delivery, and box quality. These elements are also what you should take into consideration when choosing the custom makeup palettes and packaging boxes for your beauty products.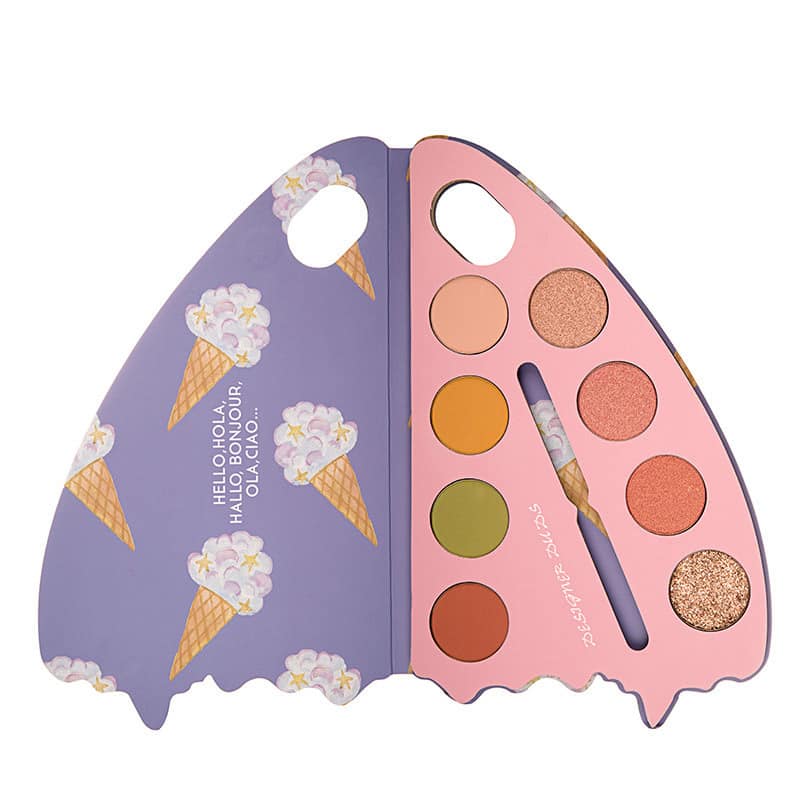 Material & Craft
Cosmetics is one of the industries that closely follow the trend, and makeup palettes and skincare packaging boxes will also change with the changes of the trend. For example, ordinary beauty product packaging boxes generally will not be changed by the brand in a short time. As for cosmetic gift boxes, with the arrival of holidays and anniversaries, brands will launch various holiday gift boxes and limited subscription boxes. For this type of makeup gift box, different gift boxes will choose different materials and processes. In order to prevent frequent replacement of suppliers, when choosing a makeup packaging box manufacturer for the first time, it is necessary to determine the selection range of its material and process. Common paper materials include cardboard, kraft paper, art paper, virgin paper, gray board, etc.; common craft processes include bronzing, printing, embossing, and embossing. You can choose the best materials and craft processes according to your budget and your cosmetics market positioning.
Competitive Price
Regardless of the size of the brand, it will always pay attention to product profit and cost. The outer packaging of the product is part of the overall cost of the product. When choosing cosmetic packaging and empty makeup palette suppliers, many brands will choose to shop around. In the process of price comparison, brands should not only compare product prices but also compare their quality. As the saying goes, "cheap is not good, good goods are not cheap", but it is not that there are no good quality and cheap makeup packaging boxes. Therefore, when comparing prices, you should make a choice based on product demand.
Delivery Time
When customizing makeup palettes & packaging boxes, you should ask about the delivery time. As a partner, cosmetic brands must rely on makeup packaging box suppliers to deliver packaging boxes on time to release new products. Of course, on the issue of time, as a brand, you should also set aside enough time to avoid delays caused by the logistics.
Stable Quality
Makeup packaging box is the marketing image of the product, and part of the customer's view of the product and the brand depends on the packaging box. The poor quality of the packaging box will reduce the value of the product and the brand image. Therefore, makeup brands need to rely on packaging box suppliers to produce stable quality empty makeup palette packaging boxes. Generally, cosmetic packaging box suppliers will make samples of the products before customizing the makeup palettes and boxes, or provide pre-production samples for the brand before mass production to ensure product quality.
As a professional custom beauty packaging factory that has been engaged in the makeup packaging industry for more than 10 years, KALI is fully capable of providing one-stop custom empty makeup palette & box needs for brands. And rely on highly skilled employees and excellent production capacity to fulfill all expectations of the brand.
Latest posts
                                  In July 2021, Henan China was stricken by severe flooding.                                                  ......

In May 2020 our company Zhuhai Kali Development donated 100.000 facemask to the Dutch healtcare organisation Stichting Cordaan. Completly in li......

This is our first time that Kali company has gone to Hungary. Because have enough time, so we decided to visite some local tourist attractions.......