Advent Calendar Design Ideas 2021 – Best Christmas Gift Boxes
34 views
Published by
September 6, 2021
Every year at Christmas it is popular again – the Advent calendar! Whether it's an advent calendar for cosmetics, chocolate, jewelry, or tea – we will help you find the perfect advent calendar for you and your product. Together with your idea and our knowledge, we produce a custom advent calendar according to your wishes, which is only available once. This makes it particularly good for marketing your products or simply as a gift for customers or employees.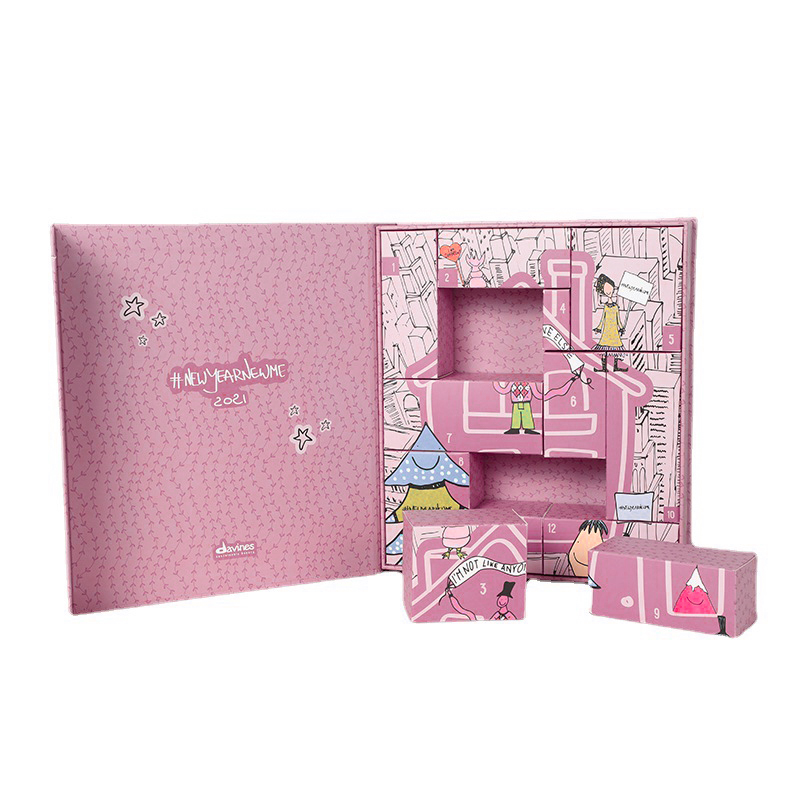 Advent Calendar Made Of Small Folding Boxes
An advent calendar with small folding boxes inserted is classic and elegant. The numbers on the folding boxes are even tangible due to a hot foil embossing and thus stand out clearly from the background. In addition, the viewing window gives you a glimpse into the interior. The cardboard box in which the 24 small folding boxes are hidden is also made of a very elegant natural cardboard, which is particularly characterized by its stability.
Folding boxes with or without a viewing window
A wide range of finishing options – such as blind embossing, hot foil embossing, and much more
Wide range of packaging, adapted to the content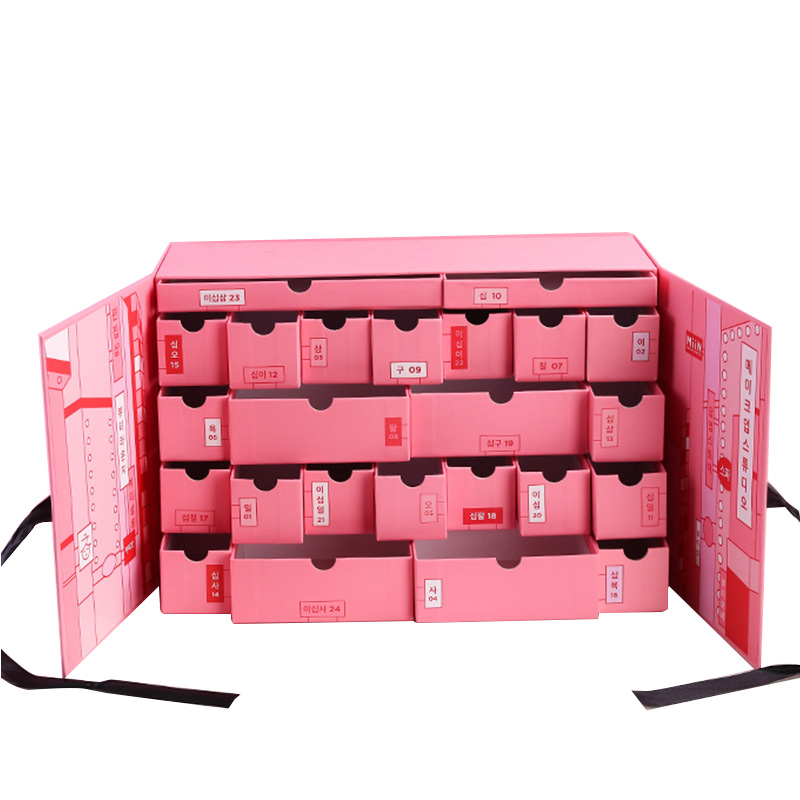 Advent Calendar as Display with Folding Boxes
A classic is, of course, the advent calendar. A display as an advent calendar immediately catches the eye and is therefore a great companion through the Christmas season. A large selection of gift boxes is also available here. Here, for example, a special combination of stand and folding box with the hollow wall can be seen. The advent calendar can thus be presented both on a set and lying down. In the bottom of the box, there is an inlay adapted by us for you, which in this case holds the 24 folding boxes.
Displays as advent calendars can be placed anywhere and serve as an eye-catcher on tables and counters
Combination of stands and lockable boxes possible
Extensive design options
Magnetic Box with Matching Inlay as Custom Advent Calendar
A very special box can be found in the magnetic box. The magnetic closure is not only a good choice visually, but also due to the noise that the closure of the box makes when closing. If you then choose a haptically appealing material and fill the advent calendar with something delicious, you appeal to all the senses with the magnetic box. The inlay can then be customized to your desired content to keep everything in place.
Magnetic box can be filled with desired content by matching inlay
Magnetic box as a particularly high-quality Advent calendar
Wide range of materials and, if desired, also with finishing
Advent Calendar Made of Pillow Boxes & Hinged Boxes
The list of boxes that are suitable for your advent calendar is long. Because depending on how you want to use the calendar, all doors are open to you. Bag boxes can be placed in a box or in a large box. Pillow boxes could be hung up and in folding boxes bags with small gifts can be accommodated. The design of the boxes is entirely up to you.
Depending on your creativity, each box is suitable for an Advent calendar
The advent calendar can be designed according to your wishes
All Surface Finishes are Available For Advent Calendars
Due to the Christmas season, the Advent calendar is particularly suitable for looking solemn. You can achieve this with our large selection of finishes for the selected boxes of the calendar. You are free to decide and we will be happy to advise you on the material and the matching finishing.
Finishes such as blind embossing, hot foil embossing, partial or full-surface UV varnishing
Striking spot colors/metallic colors
Laser punching
A cardboard insert to match their contents
Viewing windows can provide the first insight into the Advent calendar
Packaging Sleeve around the advent calendar can be personalized and thus made even more personal
Your advent calendars can be made with us according to exact specifications, whereby a wide selection of materials is available to you. In addition, you can fall back on one or more refinements to make the Advent calendar even more festive. Our customer service is always at your side for the selection as well as for questions.
Latest posts
                                  In July 2021, Henan China was stricken by severe flooding.                                                  ......

In May 2020 our company Zhuhai Kali Development donated 100.000 facemask to the Dutch healtcare organisation Stichting Cordaan. Completly in li......

This is our first time that Kali company has gone to Hungary. Because have enough time, so we decided to visite some local tourist attractions.......