Best Face Mask Packaging Box For Fabric, FFP2/N95 Disposable, Surgical Masks
59 views
Published by
April 10, 2021
As the pandemic spreads around the world, masks have become a hot-selling product. Are you a manufacturer of face masks (community masks, FFP2/N95 disposable masks or surgical masks), and looking for a cost-effective mask packaging that is very suitable for your hygiene products? In this post, we will show you here the designs and structures of mask packaging box and guide you through the order of your idea packaging for masks. What's more, Kali can provide durable custom disposable mask boxes ordered instantly and shipped just as quickly!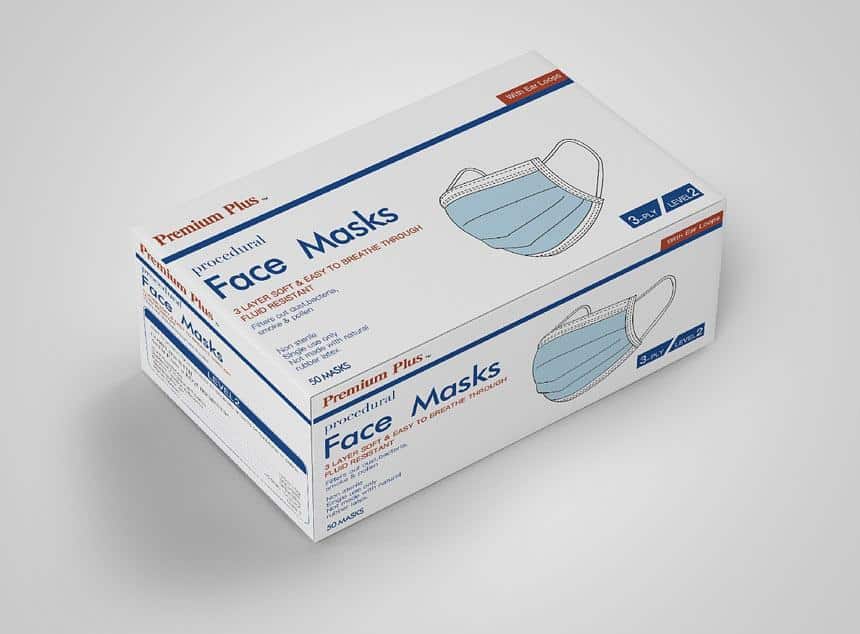 What Is The Packaging Box For Your Face Mask Products?
There are many different types of mouth-nose coverings: from the DIY fabric mask, also called a community mask, to the face mask and surgical mask or the FFP2/FFP3/N95 mask. Depending on the type of mask, the best packaging for each mask is also different. Therefore, we introduce to you main types of mask packaging boxes in the market now, in order to help manufacturers obtain the most effective packaging solutions.
Simple Die-Cut Packaging Box for Community Masks Made of Fabric
The so-called community masks, also known as everyday masks, DIY masks or makeshift mouth-nose masks are made of fabric and offer varying degrees of protection from droplets, depending on the design and structure of the mask, which is not scientifically proven. The masks are often very creative and colourfully designed and are often made by clothing manufacturers or even private seamstresses. There is no labelling requirement with regard to the effect, which is why the design of the packaging can be designed completely freely.
The fabric masks are often sold individually or in small sets of three or a maximum of five units, so the size of the mask box can be kept relatively flat and narrow. This is why the custom-made folding carton is particularly suitable as packaging for community masks:
You can easy enter the dimensions individually and thus design exactly to match the size of your face masks
The bottom or closure of the packaging box is freely selectable – for the relatively light fabric masks, the most cost-effective floor with plug-in tabs is sufficient – savings potential for you!
We deliver the folding packaging box to you ready-glued and flat-laid – thus you save transport and storage costs!
Plug-in Packaging Box for Community Masks
Another nice option for a community mask is the plug-in folder, which is actually intended for brochures or promotional materials – but is also perfect for fabric masks. The folders are very inexpensive as they are not glued. Nevertheless, thanks to the plug-in mechanism, it convinces with its stability!
Choose between standard dimensions (e.B. A4, A5 and A6) and individual dimensions – depending on the size and format of your community masks
Affordable, as there is no bonding
Can be easily locked and reopened
Packaging Box with Transparent Window for Community Masks
The third packaging option for community masks is a box with a viewing window – with or without foil, as desired. In the case of community masks, a transparent window without a film is possible, as this does not have to be sterile packed or meet other requirements. The fabric masks can easily be cleaned in the washing machine.
The transparent window ensures good visibility of the fabric and the pattern of the masks. Especially with different color variants, it is important that the customer can find out about the different color options before buying – ideally without having to open all the boxes in the store. A viewing window helps with the selection. The box with viewing window is also a made-to-measure folding box with tuck-in flaps. Optionally, you can also add a hanger to display your mask packaging hanging at the point of sale.
A viewing window makes the products, the fabrics, the design and the colors visible – so there are no disappointments after buying a mask:
The visual window is easy to show your products to customers
Show off the personalized design or attractive appearance of your mask well
Convenient customer choice
Simple folding box with transparent window and hook
Hinged/Magnetic Foldable Packaging Box For FFP2/N95 Disposable Masks
Particle-filtering half masks such as FFP2, FFP3, N95 masks offer protection against droplets and aerosols and have increasingly become the standard disposable mask in public, professional and private life. Like the surgical masks, the FFP/N95 masks must have a CE mark with a number printed on the packaging and on the face mask itself.
According to EN 149: 2001 + A1: 2009 (filtering half masks for protection against particles) or DIN EN 149: 2009-08, the masks should be tested. This standard in connection with the protection level (e.g. FFP2 NR) must be printed on the mask and the mask packaging. All other important characteristics for FFP2 masks are:
Name of the producer
CE marking with four-digit code
NR or R addition
European test standard EN 149 with year and code of the test
D addition
FFP masks are usually packed in separate small foil bags and housed in a larger box as a set of 10 or 20. Here, for example, the stable hinged boxes with hollow walls are suitable – the variant with magnets is also ideal for a pleasant opening and closing experience: The magnetic boxes are stable and allow a variety of opening and closing processes – perfect for the more expensive and high-quality masks than Mask packaging!
Folding Packaging Box For Surgical Masks
Medical face masks or surgical masks offer third-party protection against droplets and are subject to mandatory labeling: The CE label as a medical product should be printed on the packaging. All other specifications should also be shown on the mask packaging as a reference.
Due to their low weight and small volume, the surgical masks are usually packed in sets, e.g. 5-10 pieces per package. The mask packaging should therefore ensure that it can be opened and closed several times without any problems. Good stackability should also be ensured if several packages are stored in a care facility, for example.
The folding box can be opened and closed several times to guarantee a single removal. For these reasons, the medical face masks are best kept in a folding box:
Individual adaptation to requirements
Production is quick and inexpensive
Lots of space for printing all notes
If you are looking for a packaging box for your face mask product, please contact KALI, we will design and produce the most cost-effective and economical mask packaging box for you.
Latest posts
In May 2020 our company Zhuhai Kali Development donated 100.000 facemask to the Dutch healtcare organisation Stichting Cordaan. Completly in li......

This is our first time that Kali company has gone to Hungary. Because have enough time, so we decided to visite some local tourist attractions.......

  This is Kali's first show at London Luxury Packaging 2018 for our high-end paper boxes.    Kali Products showed at the fair were empt......