Envelope Packaging (Ticket Sleeves) – Ideal Packaging For Gift Cards, Tickets, Vouchers, Invitation Cards
69 views
Published by
December 31, 2021
The first impression is often the most important – this applies in particular to vouchers or gifts in the ticket form. For this reason, we offer you individual ticket covers for different occasions. In this article, you can find out which types of boxes are suitable for a ticket envelope and how you can print and refine them.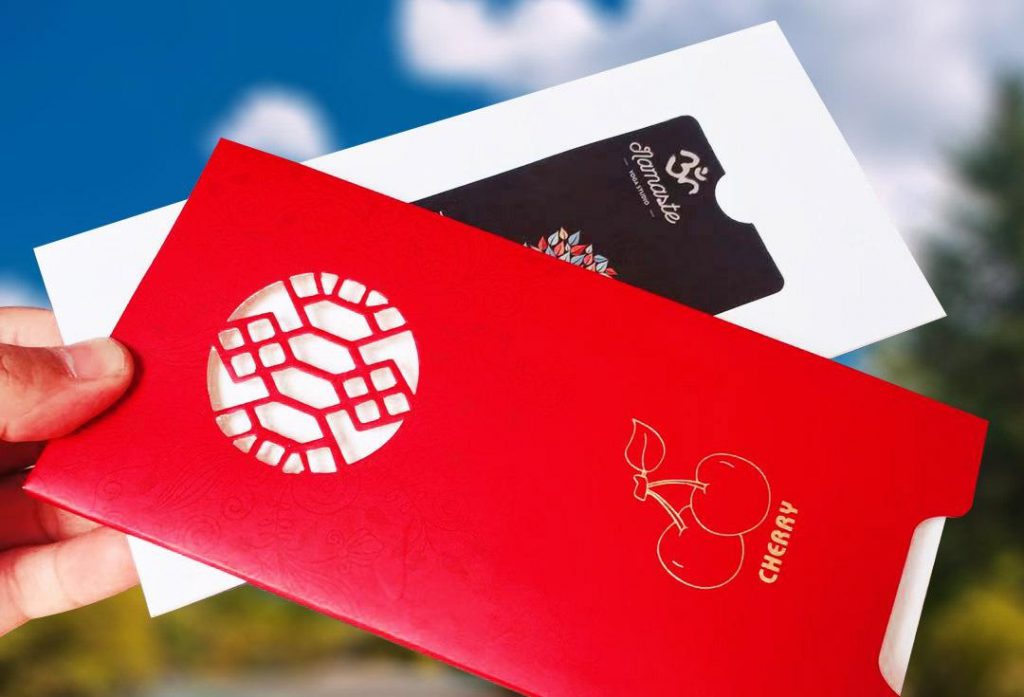 Our Box Selection for Envelope Packaging
For ticket sleeves, we recommend that you select a box in which the ticket, voucher or invitation has as little leeway as possible so that your product is not damaged by movements and vibrations. That's why we recommend flat cardboard covers with and without plug-in closures as well as folders.
Our folders are particularly suitable for tickets, invitations and vouchers, as this cover nestles perfectly on the paper. Our flat cardboard sleeves offer the same advantages as folders. However, flat cardboard sleeves have the advantage over folders of being able to place small 3-dimensional objects in them. Order a free sample today and decide for yourself which ticket envelope suits you.
Advantages of Our Envelope Packaging
Folders:
No bonding required
Simply close and reopen
Different uses and sizes
Flat carton sleeves:
Delivery already in glued condition
Protection for flat products
Variable closure: With or without plug-in tab
For Which Occasions are Envelope Packaging Suitable?
Concert tickets, theatre tickets
Musical tickets, ballet cards
Hotel and tourism maps
Flight vouchers
Credit notes
Invitation to weddings, anniversaries, birthdays
Etc.
Our Ticket Sleeves are therefore suitable for a large number of occasions. If you're planning an event and want to give your customers, friends or family a thrilling surprise, then a ticket sleeve is for you!
Suitable Paper Types for Ticket Sleeves (Envelope Packaging)
Chromo cardboard (front or back to choose from)
Natural cardboard brown
Natural cardboard black
Grass cardboard
Gmund Used
Please note: The CMYK colors look different on the different types of cardboard, as the color of the material always shines through. If you attach importance to the brightest possible colour effect, we recommend printing on the chromo cardboard. With the darker types of cardboard, you can always use a combination with hot foil embossing to set a color highlight.
Ticket Sleeves (Envelope Packaging) Printing Design
To ensure that your tickets, vouchers or tickets remain intact for as long as possible, it is best to use our Ticket Sleeves, which can be used in different areas and can be ordered in individual formats. With us as a premium print shop, you not only have the opportunity to order individual formats, but you also have the choice between cheaper standard DIN formats.
Both flat cardboard sleeves and folders can be printed with CMYK in 4 colours. You also have the option of having your individual ticket envelope printed with a special colour of your choice. This will make your ticket covers even more attractive and eye-catching. As the only type of cardboard, the black natural cardboard can only be printed in one colour: Choose plain white or silver as an eye-catcher on your black ticket cover!
How Can Ticket Sleeves (Envelope Packaging) Be Refined?
You have a wide range of finishing options for your ticket envelopes at luxury-paper-box.com. On the one hand, you have the option of equipping your flat cardboard sleeves or folders with a semi-gloss or glossy lacquer, as well as with a matt and glossy foil lamination. Furthermore, a partial UV varnish offers the perfect highlights for a unique ticket cover.
Last but not least, you can also choose between blind and hot foil embossing. Hot foil embossing is particularly suitable for elegant or festive occasions such as weddings, Christmas parties or birthdays.
Discover Elegant Envelope Packaging
Whether you use our ticket covers for vouchers, admission tickets or invitations – your internal documents are always protected from falling out or dirt. This means that our ticket covers are popular in various industries and on a wide variety of occasions. If you equip your ticket cover with an individual look, the content is not only presented in a higher quality, but the printing also supports your customer approach and the desired marketing effects.
Sustainable Ticket Sleeves
We attach great importance to sustainable packaging solutions, which is why we offer you the opportunity to equip your ticket cases with an environmentally friendly paper. This includes the so-called grass board as well as the completely sustainable Gmund Used paper. If you want to do your part to protect the environment, then equip your ticket sleeves with a sustainable paper at Luxury-Paper-Box.Com.
Latest posts
After years of experience accumulation, KALI (Luxury-Paper-Box.Com) become the manufacturer that can produce a wide variety of good-looking pac......

                                  In July 2021, Henan China was stricken by severe flooding.                                                  ......

In May 2020 our company Zhuhai Kali Development donated 100.000 facemask to the Dutch healtcare organisation Stichting Cordaan. Completly in li......