How To Build A Chocolate Gift Boxes | Custom Chocolate Packaging Box Design Tips
255 views
Published by
February 26, 2021
The food industry is one of the most competitive industries, especially chocolate products. Every retail store sells various brands of chocolate. To stand out from the crowd, the most important thing is to customize eye-catching chocolate packaging boxes to attract consumers' attention. An excellent food packaging box should be designed around the brand culture to help improve the brand image and increase loyal customers.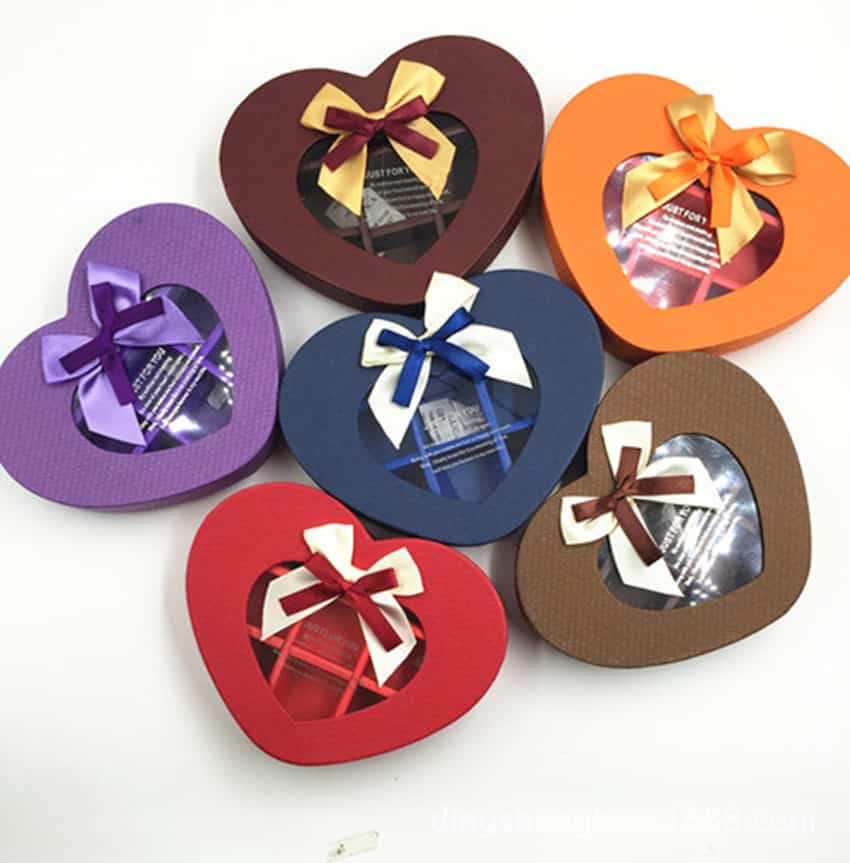 How To Build (Create) Chocolate Gift Boxes?
The chocolate box can be customized into various shapes and sizes, and displayed in front of customers in the most attractive way, the purpose is to make every experience of your customers before tasting chocolate is good. The design of these packaging boxes is very attractive and can make your customers have the courage to give them to their beloved ones.
Chocolate packaging boxes have become more and more popular, not just items for packaging products. On the contrary, chocolate packaging boxes can also provide many benefits. So below tips can help you to build up a attractive chocolate gift box:
Flexibility – Customized chocolate boxes are very flexible. The size, structure, and color of the packaging box can be customized according to the needs of the business. Conducive to convey more effective information for the brand.
Uniqueness – customized packaging boxes can be personalized according to different occasions and festivals. You can also use different materials and processes for production, and you can even add some beautiful ribbons to the box. To make the box look more attractive.
Printing – The chocolate box with With excellent printing could be the most effective marketing tool. You can print appropriate colors, patterns, and logos on the packaging boxes to increase brand awareness.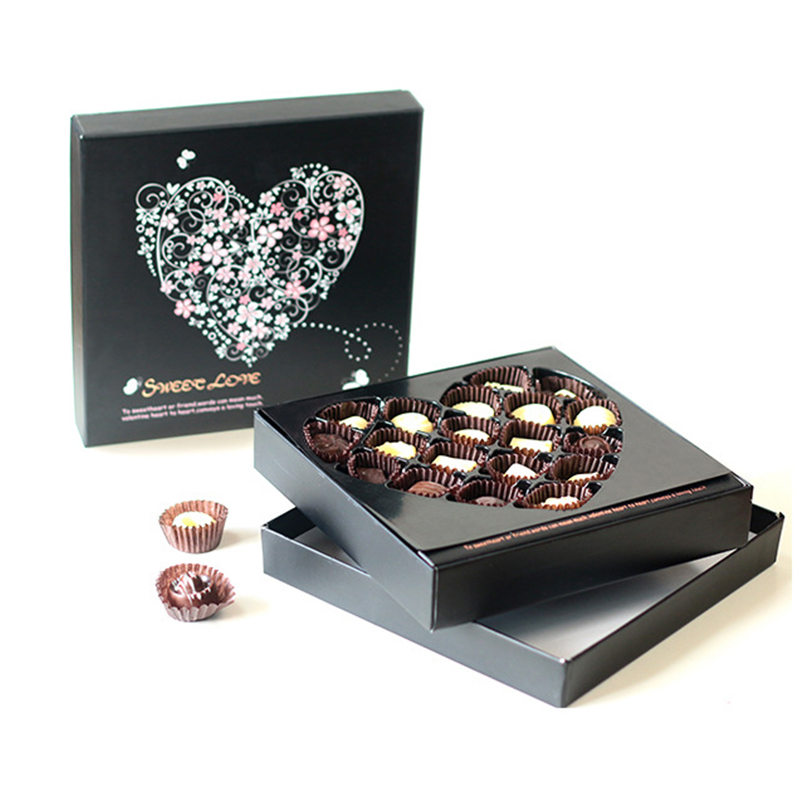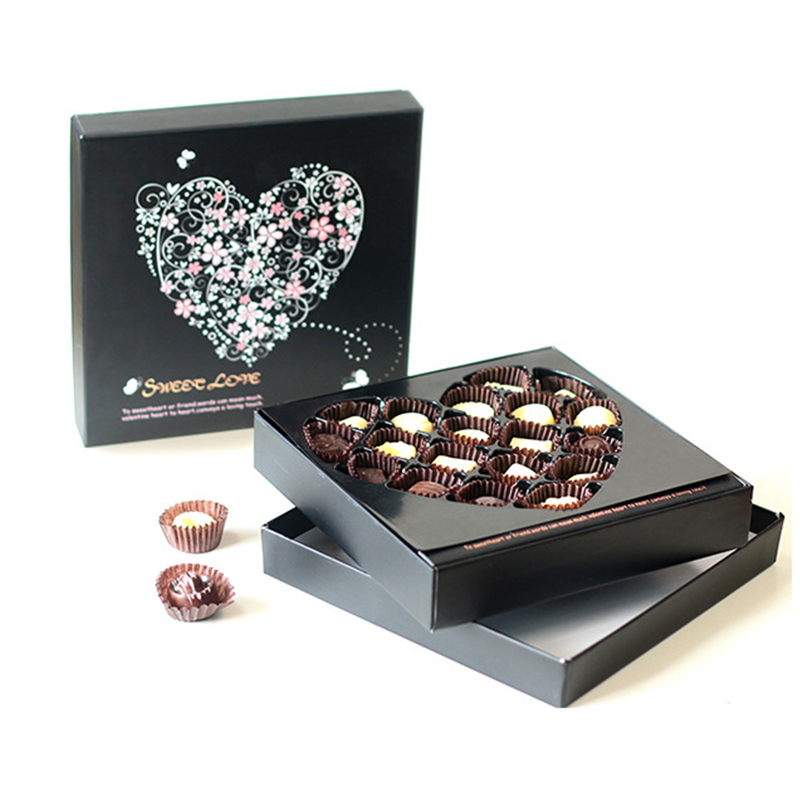 Top 5 Custom Chocolate Packaging Design Tips
The success of chocolate is largely dependent on your customized chocolate packaging design. The following custom packaging box design tips can help your product attract more consumers.
Build a brand image
One of the central principles of chocolate packaging box customization is to closely match the value of the product in order to customize the product packaging box that can enhance the brand image. High-end chocolate packaging boxes are usually made of recyclable materials and matched with designs to reflect the value of the brand.
For example, high-end chocolates are often packaged in high-end gift boxes, which exude a luxurious atmosphere no matter from the material of the box or the image. This high-end packaging box aims to convey the luxury value of high-end products to target customers.
Aesthetic
When customizing chocolate packaging boxes, ensuring a beautiful appearance is the most important thing. Think about it, your product has a few seconds to attract the customer's attention. In those few seconds, you must attract the consumer's attention and reflect the product information from the box. Therefore, in customizing chocolate packaging boxes, it is necessary to attract consumers' attention in an aesthetic way.
Propaganda
As the most common gift, chocolate is often used on Valentine's Day, Mother's Day, Teacher's Day and other festivals. In the gift box, you can use some terms that can bring sensory, holiday, or taste shocks to customers. These are some techniques that can effectively attract target customers to purchase products.
Creativity
Cost is a core consideration in the design of any chocolate packaging box. The production cost of the custom packaging box should not exceed the cost of the product itself. In the case of limited cost, using very high-end food packaging boxes is obviously not the best choice. Adding creative or popular elements to the packaging box can make the product packaging box more eye-catching.
Highlight Advantages
When the product packaging box attracts the attention of customers, it needs to attract customers to buy through its own advantages. For example, people are very concerned about health. Therefore, by clearly displaying the ingredients, calories, and fat content of the chocolate in the packaging box, customers can quickly guess the nutritional value of the chocolate and decide whether to buy it.
Chocolate gift box design is a very broad field that requires a lot of experience to accumulate. When customizing the packaging box, combine its simplicity, attractiveness, language, display, etc. perfectly, and your audience will have no resistance to your chocolate gift packaging box. If you are looking for a reliable and creative team to customize chocolate packaging boxes for your products, please contact us, Kali has made you satisfied with years of professionalism!
Latest posts
                                  In July 2021, Henan China was stricken by severe flooding.                                                  ......

In May 2020 our company Zhuhai Kali Development donated 100.000 facemask to the Dutch healtcare organisation Stichting Cordaan. Completly in li......

This is our first time that Kali company has gone to Hungary. Because have enough time, so we decided to visite some local tourist attractions.......