How To Choose The Right Corrugated Box & How To Customize Mailer Box Packaging For Ecommerce
33 views
Published by
February 23, 2021
If you just started your business, need corrugate shipping box packaging to pack your beautiful products, but you have no ideas where to start with. This article talks about all the different types of corrugated box styles, furthermore, you need to know all the steps to custom e-commerce mailer box packaging for your products.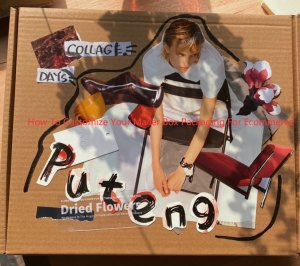 How To Choose The Right Corrugated Box?
There's no denying that there are hundreds of different box styles you could choose to pack your products in the current market. But in general, they fall into two basic categories those that require custom-made tooling and those that do not. First, the boxes that don't require any custom tooling that means will be cheaper to jump into production, but it also means that they'll require tapes to assemble. When choosing a custom mailer box of any style keep in mind how long it takes to assemble the box. Imagine if you can save just 5 seconds off box assembly for instance and by gaining more time to do things efficiently.
Regular Slotted Containers: The common box style that you might see floating all around called RSC it stands for regular slotted containers. It doesn't require custom tooling but you will need tape to close it.
Full Over Lap: Another corrugated box packaging FOL stands for full over lap. Some over lap boxes are made in a similar fashion but the flaps actually go all the way across instead of meeting in the middle. Which requires more material to produce instead they are stronger than regular corrugated boxes.
Mailer Box: If you're shipping something heavy or you have a design that you want on a full surface this is the best option for you! With drilling in creating a mailer box which is common in e-commerce shipments. A corrugated mailer box opens from the front creates a nice unboxing feel for your customers.
Auto Bottom Box: If you're going to up to invest in some tooling you could get fancy with some of the features you put in your box. There's a box tile called auto bottom box where the box bottom goes down automatically, so there's no assembly or tap required. In this case, this is easier and fulfillments but more expensive.
Tuck Flat Bottom Box: Another style is the tuck flat bottom box, it's less expensive than on the bottom because it doesn't require gluing. But it took more time to assemble the box.
Custom Mailer Box: Custom you own mailer box at Kali Printing could have a lot of different features, you could put the dust flaps on the side with a front tuck closure, or you could have the desktops on the inside of the box and a simpler closure or you could do something fancy and actually secure your product with a tab lock.
How To Customize Mailer Box Packaging For E-commerce?
Not all 3pls and shipping partners even work with custom packaging or allow it. First thing first,  before you start to deal business with a new custom box, make sure your shipping partner supports a custom mailer corrugated box. The rule for your packaging budget is to spend between 1-3% of your total campaign funds or total revenue on the packaging. Within that 1-3%, there's a lot of design options then break it down into two parts like the inside and the outside of your packaging. The outside of your mailer box it's like a storefront. It's the definitely best opportunity to make a unique impression with your brand so you need to choose the most eye-catching mailer box packaging. If you're going to spend more like that 1% budget on creative mailer box packaging there's a few options.
Use rubber stamps to customize a blank box.
Use stickers or labels to add a nice pop of customization that's easy to apply.
Use custom tape which is an awesome blend of form and function.
As for inside the box like the inside of your very own store for your brand. Inside of the box is a great way to add ambiance to the whole experience and make your customers feel special. There are various ways to make inside your e-commerce mailer box unique:
Leave a custom message inside of the kraft mailer box lid while still staying in the one-percent range.
Use colored void fill at colored tissue paper or colored crinkle to add a nice pop but not break the budget.
3% range end of the packaging budget you can do custom printed tissue paper or butcher paper for wrapping your product
Use some custom printed collateral or notes inside your box
Print the fun custom message inside of your mailer box
Put another box in a box for gifting
Start considering getting a custom printed box and you can play with different finishes and design options to make your brand really stand out from others. Kali Printing is a professional printed mailer box manufacturer in China, that has decades of experience supplying top-quality custom mailer box packaging to customers all over the world. We have professional designers to meet all your demands with your custom mailer boxes. Most importantly, our e-commerce mailer packaging boxes at a factory-direct price.
Latest posts
In May 2020 our company Zhuhai Kali Development donated 100.000 facemask to the Dutch healtcare organisation Stichting Cordaan. Completly in li......

This is our first time that Kali company has gone to Hungary. Because have enough time, so we decided to visite some local tourist attractions.......

  This is Kali's first show at London Luxury Packaging 2018 for our high-end paper boxes.    Kali Products showed at the fair were empt......