Is The World's Largest Primary Eyelash Processing & Production Base In Korea?
313 views
Published by
January 28, 2023
False eyelashes can make eyes bigger and more energetic, which has become the pursuit of women who love the beauty around the world. Today, we are going to talk about the world's largest primary eyelash process and production base.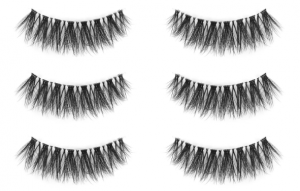 When it comes to false eyelashes, the first thing the insiders think of is Pingdu, Qingdao, China, a small city in the north. There have been as many as two or three thousand enterprises producing false eyelashes in the past two years. Factories with an annual output value of hundreds of millions and family workshops are densely distributed in Pingdu city, towns, and villages. Through platforms such as 1688 and Taobao, they flow to nerve endings such as hairdressing stores, shopping malls, and online shopping carts. Pingdu supplies 70% of the country's fake eyelashes and has sailed across the sea into Europe, Southeast Asia, and other countries, with the output value of fake eyelashes reaching several billion CNY.
However, behind the prosperity of Pingdu false eyelashes, it is the Korean people who contribute silently. According to incomplete statistics, 80% of eyelash factories in Pingdu purchase or process fake eyelash raw materials and semi-finished products from North Korea. North Korea has produced fake eyelashes with raw materials and semi-finished products for more than ten years, and many cities have fake eyelash production bases. Larger bases have thousands of careful female workers who use tweezers, scissors, and glue one by one to make different materials of mink hair, chemical fiber, horse hair, etc. into different lengths, numbers, curvatures, colors and styles of flower hair, pair hair, dense arrangement and other fake eyelashes semi-finished products.
Most of these semi-finished products are transported by middlemen to Pingdu, China, sold to various factories, rolled and qualitative, and then pasted with various brands and eyelash box packaging, and then entered markets around the world.
For many years, the eyelash processing base in Korea has been equipped with high-quality processing technology. However, due to the closure of North Korea, many domestic eyelash enterprises cannot directly contact with the eyelash processing base in North Korea. Most of them are transferred to the eyelash processing base in North Korea through several layers of middlemen. The problems of language translation, distortion of discourse transmission and other kinds of problems lead to a large gap between many produced products and customized products, and it is difficult for the supply and demand sides to meet directly, resulting in many problems.
North Korea's large eyelash processing base, which is led by the Korean government and jointly composed of several Korean eyelash processing plants, hopes to cooperate directly with domestic and foreign eyelash brand enterprises in the form of processing with supplied materials or directly supplying semi-finished products. Enterprises interested in cooperation can contact and directly connect with "Vigorous Vision".
The eyelash production base in Korea can produce eyelash products of various shapes, which can be processed with supplied materials or ordered with fake eyelashes of various shapes. Processing products: artificial eyelashes, 3D eyelashes; 2 layers and 3 layers of eyelashes from 6mm to 15mm, and round and plate dense eyelashes from 6mm to 15mm.
Latest posts
After years of experience accumulation, KALI (Luxury-Paper-Box.Com) become the manufacturer that can produce a wide variety of good-looking pac......

In July 2021, Henan Chi......

In May 2020 our company Zhuhai Kali Development donated 100.000 facemask to the Dutch healtcare organisation Stichting Cordaan. Completly in li......