Types of Product Gift Boxes – Which Gift Box Will Benefit Your Product?
41 views
Published by
April 30, 2021
When buying a gift people must not only take into account the product, but also its packaging: the box that will contain it. With it you can customize the product gift box and give it a special and exclusive touch. The person who receives the gift will not only know how to value the detail, but also the packaging. To do this, you have to know how to choose the right one according to the gift and the intention. These are the types of gift box that are most used in market now.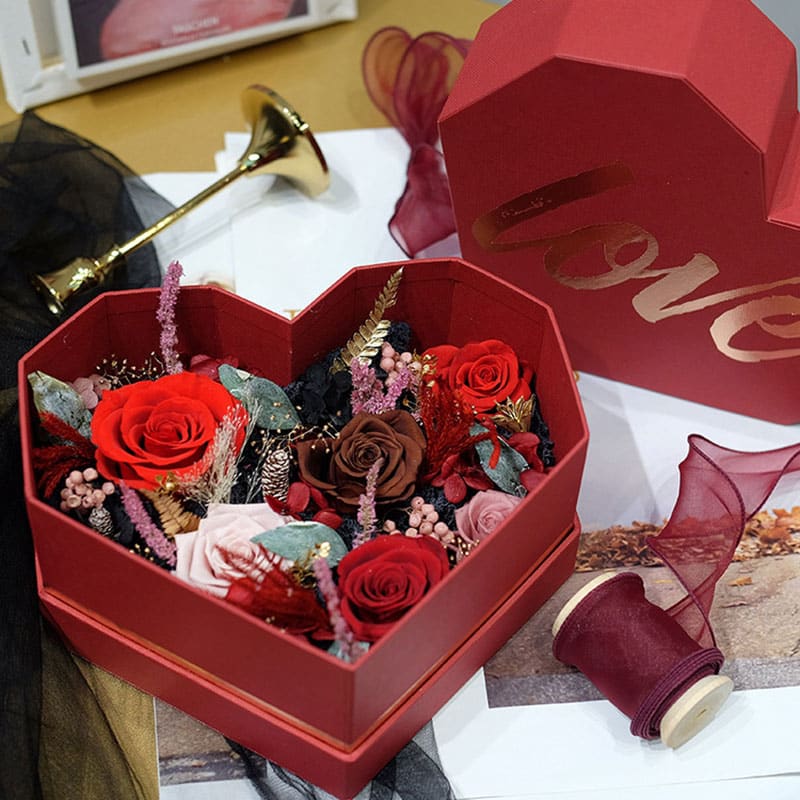 Gift Box Types – Which Gift Boxes Best Suit Your Product?
Rigid Cardboard box: cardboard is perfect as gift wrapping, as it is resistant, moldable, light, easy to carry and with great customization and decoration possibilities.
Box with Lid: it is one of the packaging most chosen for its elegance. These boxes cover what's inside so it won't be discovered until the lid is opened. The different faces of the box give the possibility of decorating them.
Box With Flower Closure: wrappers with this type of closure are used, above all, for cosmetic and jewelry products. So, if you give away perfumes, creams, makeup or jewelry, it is the best option. This gift box is a surprise due to its original closure that simulates the petals of a flower.
Pillow Box: this box is one of the most sophisticated options. It is used for small details and closes on both sides. They are very practical. It is ideal for inserting a logo or names, for example, of the bride and groom at the wedding, along with the date of the celebration.
Chest Box: They simulate a chest and are ideal for larger gifts. It is a very original packaging, designed to surprise, since the product is not seen until the box is opened.
Ideal Packaging Boxes for Traditional Gifts
Window box: unlike the previous box, this one does see the product from the outside. Therefore, it is perfect for gifts that have a nice appearance, such as a cologne or makeup kit. The window can be placed on one of the sides or on the lid.
Plastic box: with this packaging, the gift will be seen in its entirety. The plastic boxes are perfect for mini plants, dried flowers, candles, sweets.
Jewelry box: it is a small opaque box in which you can include the jewelry and secure its closure with a bow.
Wooden box: these boxes are used, above all, to give bottles of wine, jars of honey or jam, bottles of oil.
How Do Gift Boxes Benefit Your Product or Business?
When it comes to giving away, you should not only think about the product, but also about its packaging, which will say a lot about that gift. Increasingly, users are betting on a detail that takes care of both the material from which it is made, as well as the usefulness it has or the presentation. The box should be a careful gift box, which differentiates the user's shopping experience from the competition. One way to do this is to offer customization, printing on it or closing possibilities.
In addition, its creation must communicate and reinforce the company's value proposition, for example, using ecological, biodegradable or recycled materials for its manufacture, since more and more users are betting on companies that contribute their grain of sand to the care of the environment. This will make the potential client opt for them and not for others.
The boxes are the perfect present wrapping, due to the different possibilities they offer and the different types to choose from depending on the gift.
Latest posts
In May 2020 our company Zhuhai Kali Development donated 100.000 facemask to the Dutch healtcare organisation Stichting Cordaan. Completly in li......

This is our first time that Kali company has gone to Hungary. Because have enough time, so we decided to visite some local tourist attractions.......

  This is Kali's first show at London Luxury Packaging 2018 for our high-end paper boxes.    Kali Products showed at the fair were empt......