Where To Buy The Best Empty Eyeshadow Palette?
395 views
Published by
December 23, 2020
Whether you're looking for the right storage box for your monochrome eye shadow or a reliable package for your eye shadow product, you're in the right place, here we'll show you where to buy the best empty eyeshadow palette.
Why Do You Need To Buy Empty Eyeshadow Palette?
Store for Personal Eyeshadow – When you buy eye shadow products, you may choose to buy a single eye shadow pans (which does not come with an eye shadow disc) instead of getting a whole eye shadow set because not all colors are suitable for you. So to better store your favorite eyeshadow and make it easy to carry, you need a palette. You can find tutorials on YOUTUBE that teach you how to DIY an eyeshadow palette, but there's no doubt that it takes you some money and time to spend on materials and handcraft. Therefore, buying an empty eye shadow palette is definitely the best choice, although it may cost more than DIY.
Packaging for Eyeshadow Products – If you are in the cosmetics business, it is necessary to find a suitable eyeshadow package for your product. Stylish, convenient, and practical empty eye shadow boxes can definitely add value to your products and attract customers. And most importantly, you need to find a reliable packaging supplier that can personalize your product and combine quality and budget benefits.
Where To Buy Empty Eyeshadow Palette?
Above, we've covered why an empty eye shadow box is in demand, so we'll look at where you should buy an empty eye shadow box based on each of these two scenarios:
Buy a single eye shadow palette – If you just want to buy one or more empty palettes for your eye shadow, head to your local cosmetics store or grocery store. A more convenient way is to look for retailers online, such as on Amazon and eBay, who often offer a variety of eye shadow packaging palettes that match market trends, and you can generally find one that meets your needs, no matter you want a magnetic eyeshadow palette or empty eyeshadow palette with mirror.
Wholesale empty eyeshadow palettes bulk – If you are looking to purchase a large number of eyeshadow packages for your products, then we recommend that you find a reliable professional custom packaging manufacturer and supplier. You can find hundreds of vendors from around the world through Alibaba or Google Search, but due to lack of experience, you're likely to choose packaging that will cost you money and sell. Here's how to find a good supplier of empty eye shadow palette.
How Do I Find A Reliable Supplier of Empty Eyeshadow Makeup Palettes?
We've compiled five tips to help you find the right eye shadow packaging supplier for all your sales, shipping, and storage needs. Ready to take your eye shadow product packaging to the next level? Read on.
Factories or companies with professional design and production capacity.
Finding a reasonably priced eyeshadow makeup packaging supplier should be one of your top priorities, and a color palette tailored to your product will definitely add value and charm to your product and increase sales. Design experience with a wide range of materials is also critical. As a result, suppliers with a well-developed design team can design and produce based on the characteristics of your product and trends in your market, with some useful features attached to enhance the value of your brand and the product itself.
Can provide you with the most cost-saving solutions
Finding a reasonably priced cosmetic packaging supplier should be another top priority for you, especially if you are a small business owner. Professional packaging suppliers should be able to provide the best design and production solutions according to your inventory plan and costs, and keep the benefits of quality and price at the same time!
Palette supplier with fast and smooth delivery
For cosmetics such as eyeshadow, whether it's physical retail or e-commerce store brands, delivery times are critical. Finding makeup packaging suppliers with reasonable delivery times and ensuring fast, smooth delivery is critical to your brand's success. Delays in any delivery can result in stagnate in your product's time to market and missed the best time to sell.
Where Can I Find the Best Custom Empty Eyeshadow Box & Palette Wholesale?
Now that you understand the key factors to consider when choosing an eyeshadow packaging supplier, you should now consider customizing empty eyeshadow palettes from Luxury-paper-box.com because we have advantages in all the three factors mentioned above! Professional design, high-end quality, cost-saving price, timely delivery, as well as the whole process of active service, so that you have no worries. You can contact us today to find the best packaging for your eyeshadow product!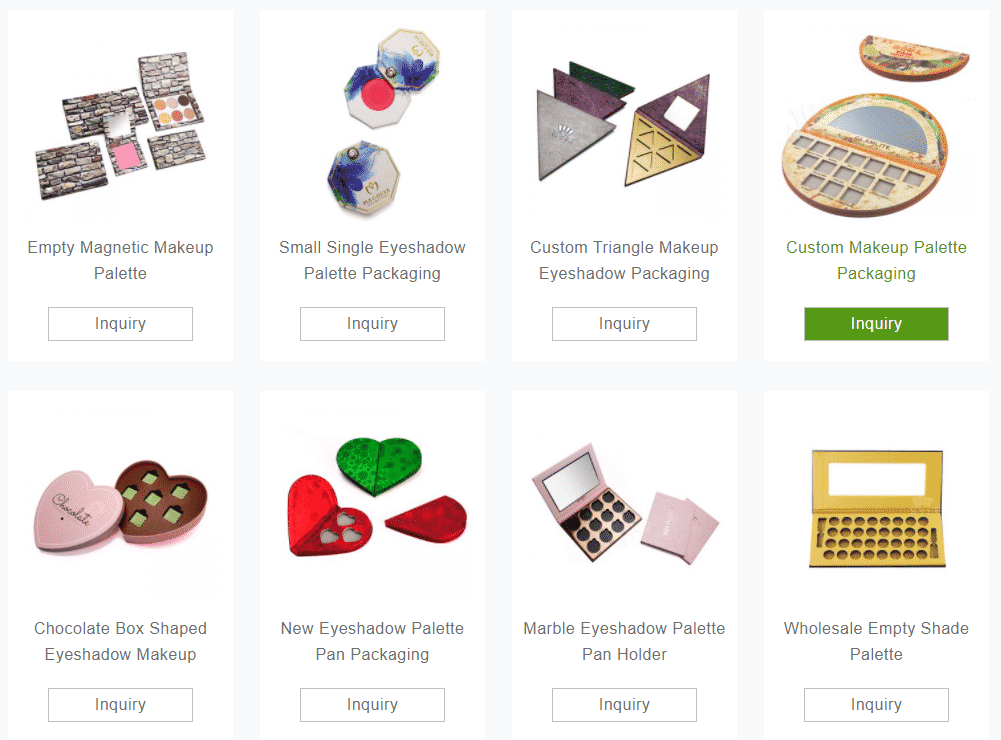 Latest posts
                                  In July 2021, Henan China was stricken by severe flooding.                                                  ......

In May 2020 our company Zhuhai Kali Development donated 100.000 facemask to the Dutch healtcare organisation Stichting Cordaan. Completly in li......

This is our first time that Kali company has gone to Hungary. Because have enough time, so we decided to visite some local tourist attractions.......