Wine Packaging Guide – Best Material & Design To Make Wine Packaging Boxes Stand Out
29 views
Published by
June 9, 2021
Are you looking for high-quality packaging for fine wine? We will show you which boxes are particularly suitable for wine packaging and what to consider when choosing. Regardless of whether it is used as a product presentation or gift packaging, individualized wine packaging enhances your product and guarantees a grand entrance.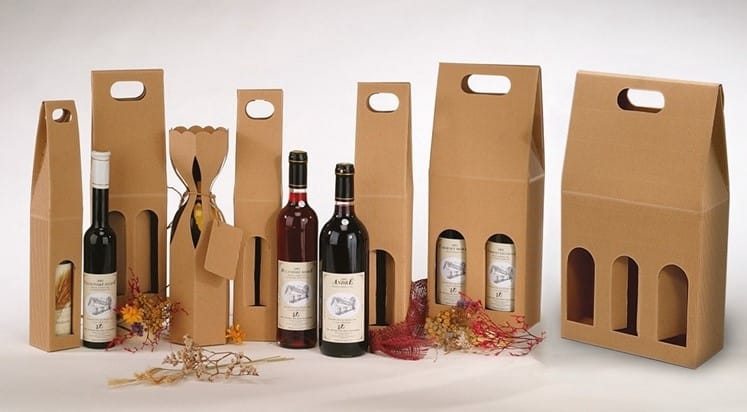 What Material Do You Use for Wine Packaging?
Which material is best for your wine packaging? Basically, we can make your wine packaging from almost any material. The materials that are most frequently chosen include white cardboard, brown or black natural cardboard, or environmentally friendly grass cardboard.
White cardboard is ideal if you want to print large parts or the entire box in color. It enables a brilliant print image and can be printed on both sides.
Brown or black natural cardboard looks modern and high quality and impresses with its feel and robustness. It is particularly suitable for minimalist design.
Grass cardboard appeals to a sustainable target group and is therefore ideal for organic wines. You can find detailed information on the different types of cardboard here.
For particularly fine wines or champagne, besides cardboard, people like to use other high-quality materials such as wood or metal. There are countless options for customizing your wine packaging. The choice of material usually depends on three factors: location, purpose, and price segment.
On Luxury-Paper-Box.Com, you will find a few examples of particularly beautiful custom packaging boxes for bottles and wine. On request, we will also be happy to send you material samples. Then you can get an idea of which material is best suited for your individual wine packaging.
Related Read: Mailer Box Packaging: Benefits Of Using Custom Printed Shipping & Mailing Boxes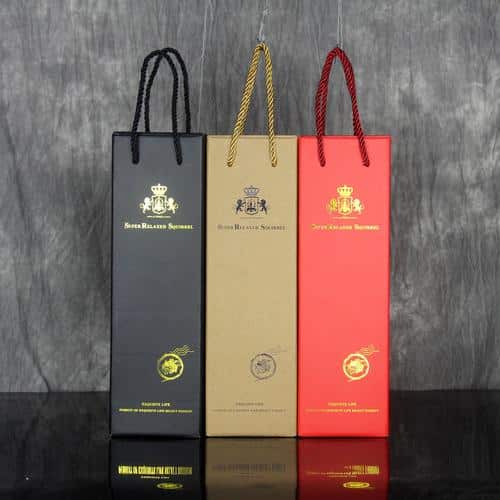 Which Type of Paper Box As Win Packaging?
When choosing the type of box, in addition to the size of the wine bottle, you must also consider the weight and shape of the bottle to be packed. A wine packaging must not only convince visually but also protect the content. Therefore, in addition to a precisely fitting inlay, we also like to recommend a covering automatic floor. This is characterized by its high load-bearing capacity and uncomplicated, quick assembly.
The Following Boxes Are Particularly Suitable For Win Packaging:
Folding Box as Wine Packaging– The folding box is a classic among wine packaging. For maximum hold, you can provide the packaging with a precisely fitting inlay.
Sliding Box as Wine Packaging– A sliding box with a precisely fitting inlay puts your wine bottle in the limelight and is ideal for presents or customer gifts.
Carrying Handle Box as Wine Packaging– A wine packaging box with carrying handle is practical and noble at the same time. It offers bottle protection, sets it in scene and encourages access.
Pouch Box as Wine Packaging– Pouch boxes look very elegant due to the tapering closure. With carrying handle, they look like a gift box.
Gift Box as Wine Packaging– Wine bottles are often presented as a present on birthdays, anniversaries or other festivities. But also as a gift for customers and employees, wine bottles are gladly taken. A personalized wine gift packaging box further enhances your wine present and gives it a personal touch. In addition, wine packaging provides a great way to strengthen your brand and spread a message. In this way, a wine bottle becomes a branded present in no time at all.
How To Make Your Wine Packaging Stand Out?
The wine packaging supports the brand image and sets your product apart from the competition at the point of sale. Many people are overwhelmed by the large selection on the wine shelves and are therefore happy to be guided by the optics when making a purchase decision. It is only advantageous if your packaging stands out.
Choosing Cardboard as Wine Packaging Material
With the growing environmental awareness, the desire for environmentally friendly packaging for wine bottles and wine presents is also growing. With our sustainable wine packaging made of cardboard, you can give away your noble drop with a clear conscience. But our carton boxes for wine are not only environmentally friendly, but also stable and beautiful to look at. Of course, the wine cartons can be printed and refined individually according to your wishes and requirements.
Using Gift Boxes To Package Wine Bottles
Packing a wine bottle nicely is often tricky. Especially packaging with wrapping paper requires a lot of mill and patience. The lovingly packaged wine bottle is then usually admired briefly and then torn open. The beautiful wrapping paper ends up in the garbage. Wine packaging made of cartons is an environmentally friendly and resource-saving alternative. They look pretty and high quality and can always be reused.
Making Wine Packaging Box In Special Design & Finishing
There are numerous design and finishing options that make your wine packaging something special. Basically, it is important to ensure that the packaging fits the content and its price segment and that it appeals to the target group. To give an example: While the packaging for a light summer wine can be colorful and playful, a noble, minimalist packaging is more suitable for a heavy, high-priced red wine.
In order to give a wine packaging box that certain something, there are various design and finishing options:
With a blind embossing or a shiny hot foil embossing in silver or gold, your wine packaging becomes a noble highlight.
With a partial UV paintwork, the logo or the name of the wine can be staged great and with the incidence of light, exciting gloss effects result.
A tailor-made inlay ensures a secure hold and guarantees a perfect appearance.
With a viewing window or a punching out, you can achieve great effects and provide a view of the content.
A carrying handle is not only practical, but also makes the wine packaging special.
These are just a few examples of the numerous possibilities regarding the design and refinement of your custom wine packaging box. Do you already have an idea how you could stage your wine? Talk to us. Our experienced customer advisors will be happy to help you.
Latest posts
In May 2020 our company Zhuhai Kali Development donated 100.000 facemask to the Dutch healtcare organisation Stichting Cordaan. Completly in li......

This is our first time that Kali company has gone to Hungary. Because have enough time, so we decided to visite some local tourist attractions.......

  This is Kali's first show at London Luxury Packaging 2018 for our high-end paper boxes.    Kali Products showed at the fair were empt......